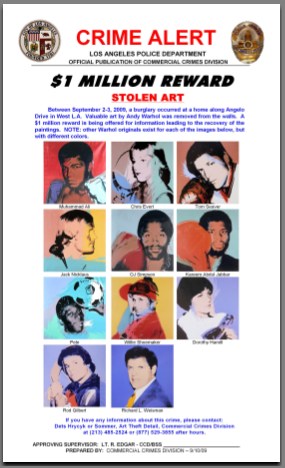 Earlier this month eleven portrait paintings by Andy Warhol were reported stolen from the home of Los Angeles collector Richard Weisman. The paintings, known the Athletes Series, depict some of the greatest athletes in the world in 1977, plus Weisman. There is a $1 million reward for information leading to their return.
When one man's Warhols are stolen, all our Warhols are stolen, because no matter how many Warhols you technically own, Warhol belongs to all of us. It's imperative that we band together to help these Warhols return to their rightful home [so they can be sold]. Which is why greg.org is announcing The Find The Warhols Project.
MISSION
The Find The Warhols Project seeks to facilitate the safe return of the Weisman Warhols by assisting in the dissemination of crucial identifying information where it is needed most: on the front lines of the art world.
FTW will educate and empower an ever-vigilant grass roots army of Warhol Watchers who will be able to quickly spot the stolen Warhols from among the thousands of Warhols streaming through the art world every day.
THE PROJECT
Many, many Warhols look the same, especially the 40x40-in. square silkscreened portraits of seemingly random people who were rich and/or famous in the 70's and 80s. This can make it hard to tell if a Warhol is hot or not.
For example, just look at these three seemingly identical Muhammad Ali portraits. Can you tell which one is stolen, which one sold for triple its high estimate, and which one was still available last summer in Beijing?

Fortunately, on September 10th, 2009, The Los Angeles Police Department's Art Theft Detail released a one-page, notepad-sized Crime Alert [top] with reproductions of the exact eleven stolen paintings and a critical detail: "NOTE: other Warhol originals exist for each of the images below, but with different colors."
This is an invaluable crimebusting tool that needs to be distributed as widely as possible and studied regularly whenever you buy, sell, see, hang, ship, frame, conserve, appraise, authenticate, license for marketing, or critique a Warhol.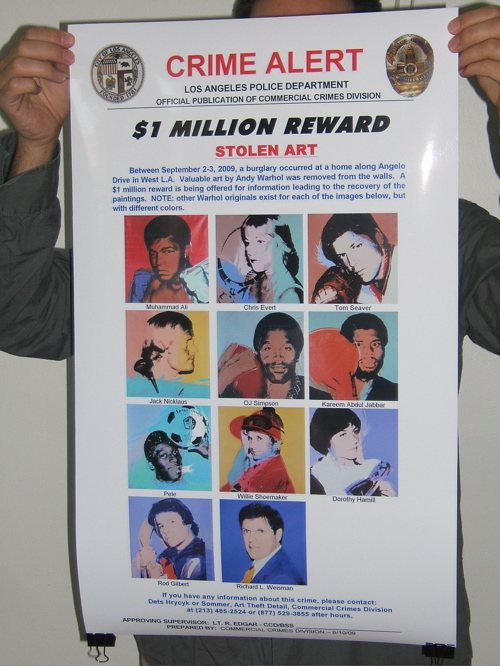 To that end, FTW will take this crucial-but-small Crime Alert and make larger versions which will enable quick and certain detection at a glance. These giant, poster-sized versions will be offset print in full color on 100-lb glossy paper, and will be suitable for hanging by Warhol Watchers at key art world locations with high Warhol traffic, including:


Art gallery backrooms


Private dealers' showrooms


Hedge fund conference rooms


Park Avenue cosmetic surgeons' waiting rooms


West Village real estate developers' conference rooms


West Village townhouse stagers' conference rooms


Collectors' offices


Private curators' offices


Museum curators' offices or cubicles


Independent curators' hallways, since it is unlikely they have offices


Curatorial studies graduate program student lounges


Auction house cube farms


Art magazine offices


Art magazine freelance writers' walls above the beds where they write because they can poach the neighbor's wi-fi from there


Art organization benefit auction organizers' conference rooms


Art fair booth backrooms


Art fair concierge desks


Art fair VIP lounges


Art fair sponsor VIP lounges


Fractional ownership jet terminals


Museum development directors' assistants' offices


Museum registrars' offices


Museum freight elevators


Crate fabricators' workshop offices


Framers


&c., &c.


HOW YOU CAN HELP


Get some FTW Crime Alert posters.


Put them up in your own corners of the art world.


Study the details of the Stolen Warhols frequently to keep them fresh in your mind.


Whenever you buy, sell, or otherwise encounter a Warhol, check it against the Crime Alert poster to see if yours is one of the Stolen Warhols.


Encourage others to do the same by writing about the FTW Project on your blogs, by giving posters to other collectors and dealers and art world friends, by holding FTW Happenings in your lofts to build awareness and learn the paintings, &c.


FTW Crime Alert posters are available for pre-order through Kickstarter starting at $10 for two, to cover the cost of printing [$883] and shipping [$3.62/order]. Orders will only be processed and the posters will only be printed and shipped as soon as 141 pre-orders are received. If the Stolen Warhols are found before FTW reaches 141 pre-orders, the Project will cease, no posters will be printed, and no orders will be charged or fulfilled. The FTW Project Kickstarter page has more information, including details of how Kickstarter pledges work, as well as options for ordering multiple posters, for international shipping, and for collectors who own more than 11 Warhols.
BACKGROUND
The Warhols, known as the Athlete Series were commissioned by Richard Weisman in 1977 for the purpose of bringing the world's two greatest leisure pastimes--sport and art--together. They are all portraits of famous athletes posing with the primary implement of their chosen sport next to their heads. Plus a headshot of Weisman himself, whose mother co-founded the Museum of Contemporary Art in Los Angeles, and whose uncle Norton Simon founded the Norton Simon Museum.
Warhol produced eight complete sets of the paintings for Weisman, plus an unidentified number of additional individual paintings. Two sets were broken up and given to each athlete and his or her sports governing body. Weisman donated two sets to university collections. Weisman's three kids each got a set. And he kept one for himself. Total price tag for the project: a reported $800,000.
All the works are 40x40 inches, silkscreen and polymer paint on canvas. Warhol also created other, differently sized versions of some images. Except for the Muhammad Ali paintings, all the canvases were signed by the athletes at the time of their completion. For Ali, Weisman had Ali sign five paintings [presumably the non-donated ones: his own, his kids' and one extra, see below] during a visit to Los Angeles in 1991. Each silkscreened canvas was painted in a unique color combination.
Weisman began marketing his set several years ago. He loaned it to the Warhol Museum in 2005. In 2007, it was offered for sale in London by the dealer Martin Summers for $28 million, along with several individual paintings. It was still for sale in 2008, when he showed it in Beijing during the Olympics.
The 2007 show also included a loosie Ali portrait with a purple ground, above right.] A couple of months later, Ali's own red & green painting [above middle], which had been given to his ex-wife, sold at Christie's for $9.2 million.
So you can see how vitally important these Warhols are, especially to Weisman. They're practically his children. Children he can sell for an eight-figure price. And children whose safe return could bring a million dollars to the one who makes it happen. Won't you help?