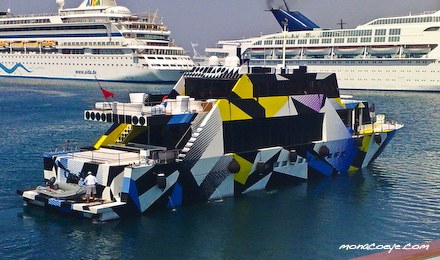 Last year Jeff Koons covered Dakis Joannou's angular yacht Guilty [designed by Ivana Porfiri] with a pattern inspired by WWI naval camouflague. The technique, known in the US as Razzle Dazzle and in the UK as just Dazzle Painting, was created by the British artist Norman Wilkinson.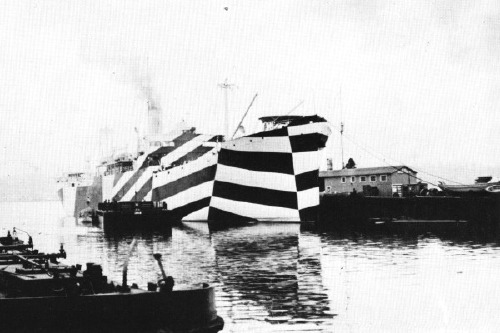 Dazzle deployed Cubism's multiple perspective and fragmentation to thwart the aim of German U-boat attacks by obscuring the ships' dimensions and traveling directions. The advent of sonar eliminated the need for visual targetting--and the utility of Dazzle Painting.
Ironically, Koons camo design made it exponentially easier for the yachtspotters at Monaco Eye to shoot Guilty in port last summer.
Dazzle Painting history and images [gotouring.com]
The US Navy apparently kept using Razzle Dazzle techniques through WWII. A large collection of 455 lithographs of camouflage designs was discovered in 2008 at RISD, the 1919 donation of an alumnus, Maurice Freedman, who was a camouflage painter during the war. They were exhibited for the first time last spring. [Dazzle Camouflage on Wikipedia]