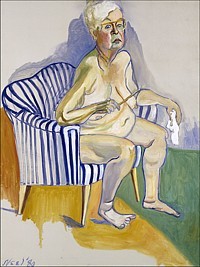 I watched the documentary Alice Neel last night, made in 2007 by the late artist's grandson Andrew Neel. It's pretty good, definitely worth a watch. Documentaries by family members come with a whole set of conflicts and challenges baked in, but Neel succeeds, I think, at identifying the craters and unexploded mines as he maps out the family's emotional landscape.
Neel's story is intense--John Perreault, variously a critic, colleague, friend, and sprawling nude subject of the artist, thinks it's long overdue for a Hollywood adaptation--and it's hard to imagine that the definitive significance of the paintings left behind is somehow "worth" the suffering and abuse and privations endured by Neel's kids (and grandkids). But then, that's not a fair tradeoff. Neel's rightwing son Richard is right to recognize that if it weren't this set of problems, it would've been something else. Neel had to make her art; it was an obsession, really. And being able to make it, Perreault argues, made Neel a "better mother (and person) than if she had lived a horrid life of creative frustration. And took it out on her sons."
But that's not the point. I mean, it is, but what I was wanting to post was the hilarious interview with Alex Katz, who Andrew effectively cast as "Figurative Painter #4," When Katz finally manages to stop talking about his own work and how actually, he was doing whatever it was Neel was doing, only earlier, all he can say about Neel is that she was "an angry housewife." You stay classy, Alex.
While Googling the quote, I found thanks to Time Out London, that Neel and Katz are having a portrait facedown at the moment. Though it's hardly a fair fight. The Whitechapel Gallery's having an Alice Neel retrospective, while Katz is showing new work at the National Portrait Gallery, including this lovely work, his portrait of Anna Wintour.