Ed Ruscha is the most handsome 'cowboy' artist I've ever seen. I think his paintings are not only beautiful to look at but also have a sad, poetic and painfully truthful commentary on America... He is a true American hero: the lonesome cowboy pointing a finger at our consumerist greed.
That's Jerry Hall talking to British Vogue last year on the occasion of
Ruscha's first painting UK retrospective at Southbank Centre.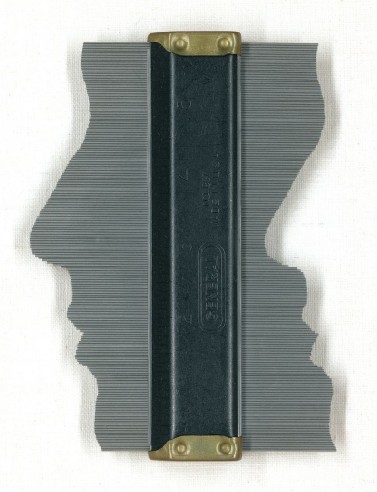 It's not clear to me when she met Ruscha, though the current issue of Sotheby's At Auction says she "often hangs out with" him in LA. And on October 23, 2003, at least, she was close enough to the artist for him to put this ol' General Tools 837 6-inch contour gauge against her lips. And she was wise enough to get him to sign it.
Oct. 16, Lot 286: PROPERTY FROM THE COLLECTION OF JERRY HALL
EDWARD RUSCHA, est. 25,000-35,000 GBP [sothebys.com]