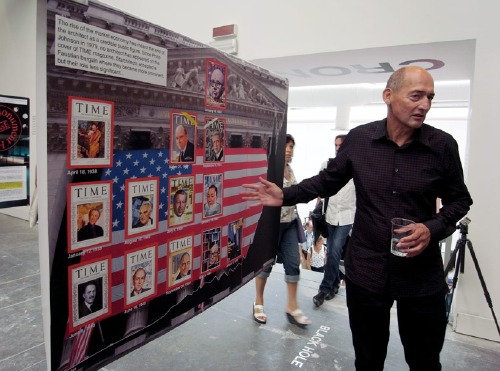 "My cover would go right here." [image via]
Just like the Wallace Sayre quip about academic politics being so vicious because the stakes are so low, maybe the hubris and self-regard are so extraordinary because it's the Venice Architecture Biennale. Anyway, let's call it out quickly, and then look at what Rem Koolhaas has to say about modernism and preservation, because there may be some interesting things there.
[The text, by the way, is Designboom's exhaustive 4-part guided tour (II, III, IV, pending) of "Chronocaos," the OMA/AMO installation of research and history-related projects within Kazuyo Sejima's exhibition.]
So. Hubris. Well, for starters, there's the introductory wall text, which, wow:
Architects--we who change the world--have been oblivious or hostile to the manifestations of preservation the past. Since 1981, in Portoghesi's "Presence of the Past," there has been almost no attention paid to preservation in successive architecture Biennales.
I mean, I'm sure the visitors to the exhibition just ate that up, but should I even be reading it, much less commenting on it? Not being either an architect OR one who changes the world and all?
Then there's the photo above, and its associated text:
The rise of the market economy has meant the end of the architect as a credible public figure.

Since Philip Johnson in 1979, no architect has appeared on the cover of TIME magazine.

Starchitects accepted a faustian bargain where they became more prominent, but their role less significant ...
We'll get to that public/market economy stuff in a minute; first let's look at this Cover of TIME [CoTIME] business, which is as alluring as it is non-credible. [I was about to say "useless," but really, it's quite useful; it just illustrates something other than what I think Koolhaas intends.]
As it happens, Jonathan Franzen's CoTIME this week gave Craig Ferhman the chance to do a similar CoTIME analysis for writers:
Time put 14 authors on its cover in the 1920s, 23 in the 1930s, seven in the 1940s, 11 in the 1950s, 10 in the 1960s, eight in the 1970s, four in the 1980s, four in the 1990s, one in the 2000s, and, now, Franzen in 2010.
Ferhman finds that behind the cover, TIME's profiles of writers are truncated, shallow, reductivist, or otherwise nearly empty of actual content. He cites multiple examples of writers resisting the--what else to call it?-- "faustian bargain" of a CoTIME, which was long considered uncritical, low-brow, and hypey. The cover becomes a thing in [and of] itself, a distillation of the magazine's--and by direct extension, its owner's--desire to assert authority and control over a cultural agenda.
In this light, and given the close tracking between architects' and writers' presence on the cover, one might be led to wonder if it's not architecture [or literature] which has changed in the last 20-30 years, but TIME and its own role or strategy as a megaphone for culture. Or to question the suitability for a democratic society of monolithic, top-down annointing of public figures' credibility. That one would not be Rem Koolhaas, though.
In any case, CoTIME reveals as little about the reported "end of the architect as a public figure" as it does about the ego-driven architect's desire to, well, to appear on the cover of TIME.
And yet. You know, this is right where I was going to acknowledge and explore OMA/AMO's more salient points, about how, as Designboom puts it,
...this year represents the perfect friction point between two directions: the world's ambition to rescue larger and larger territories of the planet, and the global rage to eliminate the evidence of the post-war period of architecture as a social project. both tendencies--preservation and destruction--are seen to slowly destroy any sense of a linear evolution of time.
But I think I'll take those up later. Because I just clicked through to see the CoTIME of the architect I thought would be the least likely candidate for a credible public figure in his day:
a January 1963 story on Minoru Yamasaki.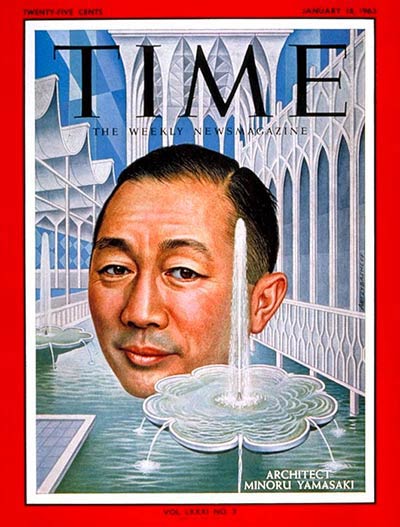 1963. Which turned out to be pegged to his recent selection to design a 15-acre site for the Port Authority in downtown Manhattan:
What form the project may be taking in Yamasaki's inventive mind is his secret, but simple arithmetic shows that the vast space needs and limited site could force him to record heights or bulk. One thing the center will not be is harsh or cold. In taking the road to Xanadu, Yamasaki has turned office buildings, schools, churches and banks into gentle pleasure palaces that are marvelously generous in spirit. He shuns monuments. He is suspicious even of masterpieces, which he feels often better serve the ego of their creators than the well-being of those who use them. He may have committed some architectural heresies, but if he has, it is largely because he is a humanist with enormously appealing aspirations. He wants his buildings to be more than imposing settings for assorted clusters of humanity; they should also recall to man the "gentility of men." should inspire "man to live a humanitarian, inquisitive, progressive life, beautifully and happily." However the Trade Center turns out, it will have that ideal-- and it will be built with the ultimate degree of loving care.
It's hard or impolitic to remember how reviled Yamasaki's buildings were as architecture and as part of the city. But I don't think anyone would dare argue about the World Trade Center that it was their architect who changed the world.