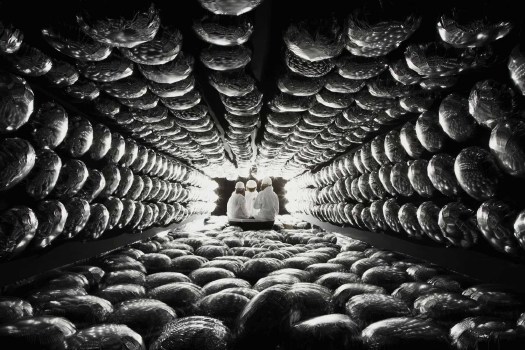 Holy smokes, experiential science artist Nelly Ben Hayoun has re-created Japan's Super Kamiokande neutrino detection facility as a Disneyland ride.
Visitors in white Tyvek bunny suits are guided by an actual particle physicist through a boat ride tunnel where a thousand gold mylar balloons--birthday party size--stand in for the hand-blown glass photomultiplier tubes of the original.
It's all going down this very minute at the Manchester Science Festival. Tomorrow's the last day. And all but ten of us have already missed physicist/glassblower Jochen Holz's workshop over the weekend, where we would have made our own PMT! The photographer's name is Nick Ballon!
Holy crap, English people! Why are you keeping all this stuff secret? Need the info!
Super K Sonic Booooum [superksonic.com via popsci, thanks john]
Shockingly closely related: The Hamamatsu Photonics R1449 And R3600 Photomultiplier Tubes: the making of [greg.org]