Here are some things I find I have kept open for several days or weeks, which I guess is one measure of how they are sticking with me:
Andrew Russeth's look into the market and objects of Marcel Duchamp is pretty great. I've been keeping Duchamp's practice on a low burn for several months now. One thing Andrew reminded me of, is looking through the chronology in the MoMA/PMA Duchamp retrospective catalogue. For a guy who supposedly stopped making art in like 1915 or whatever, Duchamp sure spent a lot of time over the years making, picking & packing Boites en Valises.
Oh, another thing Andrew reminds me of: how great dealer Francis Naumann's book about Duchamp's objects, Marcel Duchamp: The Art of Making Art in the Age of Mechanical Reproduction is.
Dan Hill's been really busy of late, and so the time lapse has grown between the classically long, thoughtful posts on City of Sound. Which makes it even more imperative to read his recent contemplation of the ever-so-slightly undulating grid of Carrara marble on the facade of Alvar Aalto's Finlandia concert hall in Helsinki. That guy knows how to see and think. Hil, that is. Aalto's no slouch, either, but you know what I mean.
Perhaps in unconscious preparation for a long-overdue Terry O'Shea retrospective, Grace took a photo of the biggest La Brea tar pit from the second floor of LACMA in 2007.
Here is how the books in three galleries in a row looked Saturday. This one happens to be from Pruitt's show Maccarone: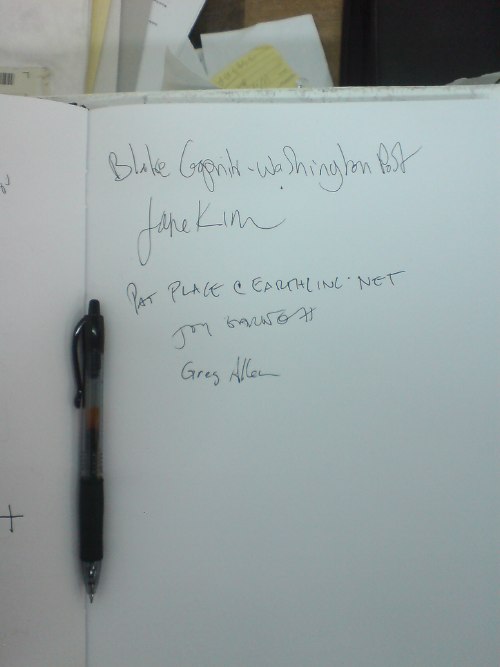 Which, by the way, I know I love the Monsters, but I was not ready for the Ikea paintings. They were rather engrossing. He paints over the Ikea knockoffs-on-canvas using a phenomenal amount of paint. The first one in the doorway, on the left, is full of flesh tones, and has this incredible surface, caused in part by Pruitt's use of Saranwrap or something to smooth down the thick, undulating surface. Of course, when he removed the plastic, the paint came up in spots, forming little peaks. In other places, gaps in the paint exposed the Ikea image below, and in still others, the creases of the plastic remained. If I'm the first, I should not be the last to consider Pruitt's Ikea paintings alongside the overpainted photographs of Gerhard Richter. Yes, that's right. At the very least, it's an interesting and unexpected reference.
Distinctively unawesome: UbuWeb has been knocked offline. [via eyeteeth]