Though I had considered entering, and I'd sampled a few of the 125 videos on the shortlist, I had planned to not write about the YouTube Play Biennial at the Guggenheim. But then reps from a couple of the event's sponsors, HP and Intel, asked if I'd guest post about art, video art, and film in their Facebook group, 24|7 Creative, and they invited me to attend the big gig at the Gugg last week. Here is a brief recap of that experience, and how I see it.
[Holy smokes, this is long now, really, unbelievably long. And with a tragicomic surprise ending, too!]
Part of the reason I'd decided to stay clear of YouTube Play was because of criticism lodged at the museum over the intermingling of curation and commerce; the Guggenheim has clearly exploited the leverage of exhibition, from the frankly embarrassing sale of an Armani retrospective, to paid-for shows like Brazil and Russia, which were clearly driven by the Guggenheim's international biz dev operations. Hell, even a seemingly pure art play like Matthew Barney's Cremaster Cycle was so full of "courtesy Barbara Gladstone Gallery" wall labels, it turned the rotunda into a showroom where curators from lesser museums could shop for their very own Barney installation. If there's a controversy, it's that the Guggenheim didn't get a piece of the action, 10% for the house.
See, I didn't want to get started. And I must say, until this morning--a week after it happened--I had a completely diametric understanding of the relationship between the parties in YouTube Play, and what it all meant in terms of art making, museum practice, and promotion. So I'm glad I waited a bit.

detail of Ellsworth Kelly's Wright Curve, covered up in the Guggenheim theatre, which was transformed into a green room.
On the question of artistic credibility or merit, YouTube Play is open and shut: it's art, it's what's happening in a major way online, and it's significant, certainly commensurate with the attention and resources the museum has expended. Roberta Smith made a compelling argument that more museums should bring back more open, juried shows. And after watching all 25 of the Play jury's selections, I thought none of them, not even the ones I hated, seemed indefensible in a museum context.
But what were they doing there, how did they get there, was the Guggenheim really involved in bringing them there, and what was the artists' and filmmakers' experience? At a press-heavy announcement early in the evening chief curator Nancy Spector announced the results of the artist- and director-filled jury she led. And she introduced the creators of the 25 winning films.
Folks from YouTube, HP, and Intel had all given their daisy chain of thank you speeches. Publicists from Google worked the media crowd, making sure everyone had his shot. The somewhat bewildered filmmakers trickled out from the doorway behind Spector, and they ended up gathering where I was standing. So I met a few, and saw their gold-painted, pound cake-sized YouTube Play button awards. And asked them how things looked.

Nancy Spector introducing Perry Bard, who crowdsourced a remake of Dziga Vertov's Man with a Movie Camera.
They had, of course, been on their own whirlwind program that day, getting the tour and star treatment, almost like a pack of reality TV show contestants. The ones coming from out of town were particularly disoriented. The Guggenheim had contacted them about a month before, when the 125-video shortlist had been announced, to tell them they'd been selected. Several people suspected it was a joke. Some were skeptical of the format and the program, but others were bemused or sanguine.
I didn't meet any outsider YouTube artists; these were all professionals, mostly people working in film, video, commercial production, animation, or occasionally, fine art. There was much slickness, and several people who saw a Guggenheim accolade as useful for furthering their project discussions with Pixar or Nike.
I spoke at greatest length through the evening with Martin Kohout, a Berlin-based artist whose work explores the structure of YouTube and the experience of watching it. [Here's his 2008 piece, Moonwalk, which was originally cued to the width of the scrollbar on YouTube's previous 4:3 format, and which now inadvertently highlights the conservation and format issues it took the 16mm-to-Beta SP guys decades to uncover.]
[It was Kohout's first visit to the Guggenheim, which he found to be rather smaller than he'd imagined. I was surprised that, as soon as he said it, I had to agree. Is there a term for the relationship between an actual physical space and the physical or psychic memory of it we hold in our heads? Because the tendency is for them to be--or to slip--out of sync. Whatever it's called, it's related to the term for the relationship between being in a place in person and pre-visiting it on Street View. But I digress...]
The announcement of YouTube Play - The Juried Exhibition--which, as I said, filled two galleries, one of silent projections and 25-channel audio headsets, and the other of touchscreen/display/kiosks, and which was only up for a few days, which, there's no way around it, is pretty damn short for any kind of exhibition, even one that is intended to take place primarily online, and so seems to have happened purely for historical veracity, to provide the necessary physical requirements for the press releases, news reports, and/or CV's generated to carry the line, "exhibited at the Guggenheim Museum"--was followed by YouTube Play - The Event.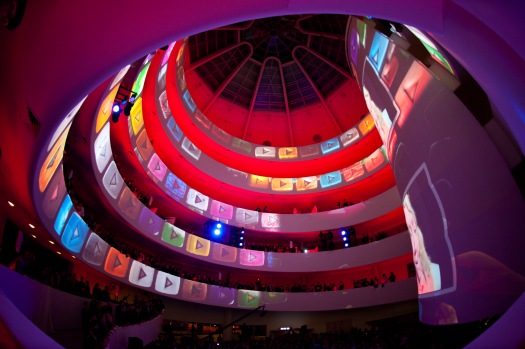 image via publicists
And what an Event it was. The rotunda was, as they say in the digital-projections-on-architecture biz in a way that surely sets art theory grad students' hearts aflutter, painted. There was a stage. And a large, casually dressed, Came Straight From Work crowd I took to be from the techy sponsors' guests lists. Folks on the museum's list came later and were dressed in a style I'd call Upper East Side Museum Opening. Hors d'oeurvres were excellent, and the bar had Diet Coke, not Pepsi. So far so good.
I confess, I hadn't paid attention to the details of the coming entertainment, so as the people I didn't recognize mingled inside, I set off to explore. It was dark enough for the exterior projection, whose hardware I had fortuitously photographed earlier in the day [above, one projector of two, plus a satellite hookup to the other Guggenheims, I guess].
What an incredible production. People are stopping along Fifth Avenue. Traffic's a mess, no thanks, I'm sure, to the tech trucks and tents, unloading cabs, and the crowd weaving freely through the cars. But if ever there was a building inadvertently designed to have video projected onto its surface, it's the Guggenheim.
When MoMA and Creative Time did Doug Aitken's Sleepwalkers, I began looking at the history of moving image art-on-architecture--which did not take long. But this Guggenheim exhibition of these video art pieces on its facade will rewrite that hist-- oh, wait, that's not what they're showing. It's something else. A purpose-built video for YouTube Play. About 10 minutes long. Patterns, subway cars, strips of film, elements that are smoothly, if pedantically, integrated to the building's horizontal spiral bands. Mosaics of the actual juried videos make brief appearances as elements in someone else's design.

"We keep talking about how YouTube is a new platform for creativity..."
That someone, I later learn, is Obscura Digital, a San Francisco-based agency that specializes in technologically enhanced immersive environments. "Much like artisans of the past were commissioned to paint murals and frescoes," their voiceover says, Obscura Digital "painted" over 20,000 square feet of Carnegie Hall's interior for the April 2009 debut performance of the YouTube Symphony Orchestra.
I was told HP and Intel had set up a Blogger's Station, where Influencers would be engaging social media, so I wandered back in to find it. It was downstairs somewhere. Not the craft services office, which was full of cupcakes and candy corns. Not the theater, which had been turned into a green room for the filmmakers and the night's performers. Not down this backstage hallway, or that one, or that one, fascinating. Ah, here. Alone with some large, shiny, no doubt top-of-the-line laptops, I ate a mini-cupcake and got online for a few minutes. [Though FLW may have anticipated digital projection, he didn't think about mobile communications; the entire building is a cell phone dead zone.]
Then I went back to the green room. A corduroy and jodphur-wearing hipster dance troupe was performing upstairs, visible on a large monitor. Then they broke and loudly, giddily rejoined me, some filmmakers, and OK Go's toy xylophone glockenspiel brigade.
There was something in those next few moments, even though I was technically watching it on TV, when the reality of a string quartet performing Brahms live alongside Kutiman's wecam YouTube videospinning sank in. And I thought that this thing could just. not. happen. anywhere else BUT inside the heavily painted rotunda of the Guggenheim.
I wondered what the first audience thought who attended 9 Evenings: Theater and Technology, E.A.T.'s experimental--some say not that successful--performance art series at the Armory, organized by Bob Rauschenberg, John Cage, and a suit from Bell Labs, the now-legendary Billy Klüver. Surely this existence is credible and enough, I thought, and whether it is great art or formative or a sidebar, only history will tell. [Well, that, and the number of views on YouTube. It's up to 157,000 in the first six days.]
Martin was there, and I pointed out the steel Ellsworth Kelly sculpture, Wright Curve, which had been covered in protective cardboard for the event. He'd wondered what it was, he said, because earlier in the day, the paper sign on it had read,
YouTube Play

CAUTION

ART
But they'd replaced it. We both agreed it was Highly Symbolic & Deeply Important enough to warrant a photo.
Emboldened by my seemingly unlimited access to the museum, I set off toward the ramp, which at that moment was filling up with the glockenspielers. The band who became famous on YouTube was now positioned below us, atop two ladders in the rotunda, playing acoustic guitars while wearing jackets covered in Christmas tree lights.
I whipped out my videocamera, even though I knew a better video would soon be available on YouTube. The tech executive next to me asked why I thought the musicians were on ladders, ending with a standard, "I don't get art." I reassured him that this wasn't art, but music video. Or theater, really. These poor folksters just needed a way to show up in this crazy, tricked out space.
I spotted some familiar faces in the crowd, and we caught up, noting the insanity of the production, which surpassed anything we'd ever seen at the museum before: Vanessa Beecroft, Francesco Vezzoli, Matthew Barney, the Motorcycle Show, it all seemed like high school theater by comparison.
And that's about it, it was over. Unless I poke around my psyche and overexamine the odd mix of ambivalence, integrity, and insecurity I felt being the only non-award-winner on the van back to the Event hotel. And that's where I ended up and came down on the whole shebang: basically a latter-day, networked economy version of E.A.T, with the synergistic kinks worked out, until yesterday.
That's when the publicist folks got back to me with the name of the dance troupe. They're called The LXD, the Legion of Extraordinary Dancers, which turns out to be a web-based series, basically Heroes-with-dancers, which airs on, of all places, Hulu.com. It's in its second season of webisodes, and they opened for Glee's national tour, and they were the only good thing about the Oscars broadcast, which means I am the only person on earth who hadn't heard of them. And then I saw in The LXD's Wikipedia entry that they'd also performed at YouTube Live '08.
And suddenly the carefully delineated lines between museum and sponsor, which had been all but invisible from one angle, came sharply into view. The contest, the jury, the judging, and yes, the exhibition [sic], was the Guggenheim.
The event, the spectacle, the program, the celebration--in other words, the content that almost everyone saw--was YouTube.
From the museum's perspective, their job was done with the list was announced, and the gallery was opened. Everything else that went on was the domain of the company which had paid to hold its event in the museum's space that evening.
I figure that the relationship that people criticized in advance for its ambiguity had, in the end, two simple parts: a curatorial element with sponsorship, akin to the Hugo Boss Prize; and facility rental, the sort of thing that happens all the time after museums close their doors to the public. The difference here, is the scale: YouTube Play had 23,000 submissions and has rung up 23 million views in six months--roughly 8x the Guggenheim New York's annual attendance--and the event filled and covered literally the entire museum.
But these, I fear, are nearly invisible nuances; of the 23 million online viewers and the 1,000 partygoers, does anyone besides me and Nancy Spector register the distinctions between museum practice and marketing? Frankly, there are probably only a couple of dozen people who weren't affiliated with a sponsor, the museum, or a biennial film entry who even attended or saw both events. And yet, listening now to the show host ["We keep talking about how YouTube is a new platform for creativity..."], there's no mystery or opacity about the nature of the event at all: it reads as a YouTube commercial made in, on, at, and with the Guggenheim.
Which, whatever. That all perplexes me less than trying to retrofit my new knowledge to the experience I had and the opinions I formed while watching the show. It was a production, a creation, a kind of creativity that doesn't just shimmy up to the concept of art, it runs straight at it and tackles it, and throws it into a giant pile of money. And the truth is, there were parts of it that I really kind of liked.