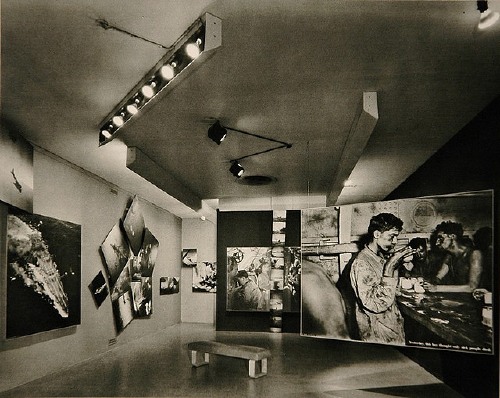 I've never done an actual, in-depth search for any, but I've always wondered what became of the giant photomurals architect Paul Rudolph used for the exhibition design of Edward Steichen's landmark 1955 MoMA show, Family of Man. [vintage scan above, from kelviin's flickr set [correction: Olivier Lugon points out this image is actually from George Kidder Smith's installation of another Steichen show at MoMA, Power In The Pacific, in 1945.]] I mean, part of me doesn't want to find out they got tossed into the dumpster.
That was definitely on my mind this summer when a huge, wall-sized Ansel Adams photo sold for $518,000 at the Polaroid bankruptcy auction.
But at least someone was saving some of these things. Like this giant, three-panel photomural of Mies van der Rohe's Barcelona Pavilion, which is coming up at auction in LA in a couple of weeks.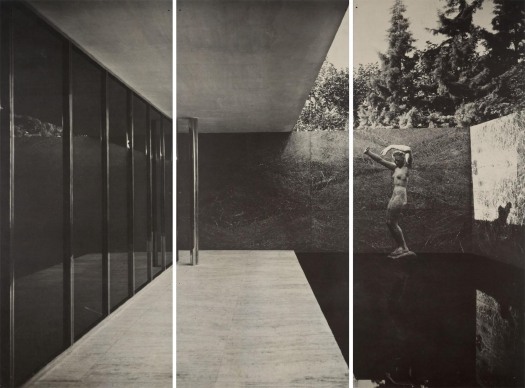 The mural was made for a 1969 Mies exhibition organized by LA architect Craig Ellwood [below is an image, from Ellwood's monograph, of the show installed at LACMA.] Since the Barcelona Pavilion wasn't rebuilt until the 1980s, the photo itself has to be from 1929-30. It's from Mies' own archive, but I'm not seeing who took it. Ellwood was a huge Mies fan, though, and this mural was in his collection until he passed away.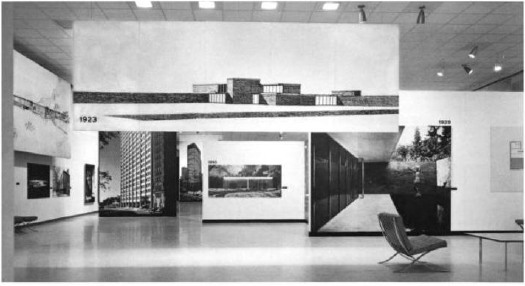 At $2,000-3,000, it's priced more as an exhibition artifact than as a print. But that's a thing about artifacts; these photomurals and giant prints seem to anticipate the wall-filling, painting-engaging future of contemporary photography, like how Cycladic art suddenly looks modern after Brancusi.
When/if any Family of Man pictures turn up, I think they should really be treated as deadweight which I'll glady take off your hands for the cost of shipping.
update: which is pretty much what the mural sold for: just $1700.