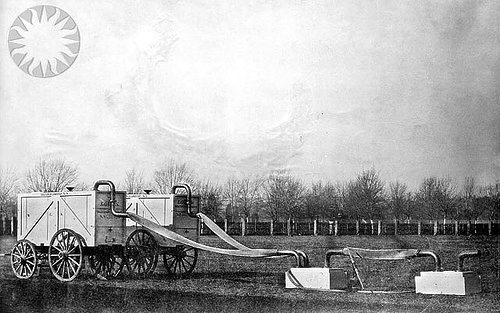 About this time last year, while pondering the ur-satelloons that were Prof. T.S.C. Lowe's Civil War-era aerial reconnaissance balloons operated for the Union Army, I was struck by the idea of re-creating the rather awesome-sounding and -looking portable hydrogen gas generators [above] Lowe designed and had built at the Washington Navy Yard in the fall of 1861.
I'm glad to report that the research for that project is moving ahead, thanks to the accidental discovery of the apparently definitive history of their making in Frederick Stansbury Haydon's 1940 tragically unfinished classic, Aeronautics in the Union and Confederate Armies: With a Survey of Military Aeronautics Prior To 1861. As NASM Senior Curator Tom Crouch put it in his foreword to the 2000 reissue of the book, retitled as Military Ballooning During the Early Civil War,
Aeronautics in the Union and Confederate Armies remains not only the basic account of the creation and early history of the Federal Balloon Corps, it is recognized as something of a minor classic of historical scholarship. While reviewer Paul Angle feared that readers would find the level of detail and sheer bulk of the documentation daunting, he also recognized it was "a study quite likely to be definitive."

In fact it is Haydon's uncompromising scholarly rigor and his attention to the smallest detail that gives the book its extraordinary power. The author tells us how much fabric was used to manufacture every balloon that saw federal service, and he provides the formula for the varnish used to seal the envelopes. He explains the technical details of the mobile gas generators that Lowe designed to inflate his balloons in the field and provides the precise cost of the rubber hose used in their construction. And what color were those generators? Light blue. Haydon found the receipt for the paint.
"Pale blue,"
we read
, "with bold black lettering bearing the legend, 'Lowe's Balloon Gas Generator,' and a serial number." Twelve were built and put into service.
Since he consulted a great number of historical artifacts without mentioning one, I must assume that no generator survived for Haydon to inspect.