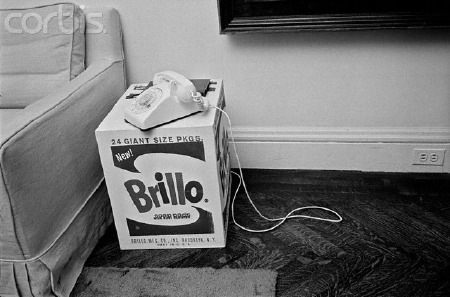 Bob Adelman, Castelli's house, 1965, fairly ganked and shrunk via corbis]
Now that they're selling for a million dollars or whatever, it's hard to imagine how Warhol's Brillo Box sculptures were perceived at the time they were made.
When they were lowly $300 sculptures, mechanically produced in seemingly endless supply, they were treated like furniture, traded and given away like party favors or the curatorial equivalent of hostess gifts. They were a medium of social, not economic currency. [At least not direct economic currency. Even from his early days as an illustrator, Warhol was already familiar with the art gift's ingratiating self-promotion.]
The most common exhibition strategy for a Brillo Box was as a table. Two of the three Boxes I've seen in private collections were encased in Lucite and placed next to chairs. One had a lamp on it. The photo above [from janee's flickr] shows what looks like a Stable Gallery box being used as a kid's table in a San Francisco decorator showhouse. In 1988, Leo Castelli told New York Magazine he used two encased Brillo Boxes as side tables, but in 1965 when Factory photographer Bob Adelman snapped this picture at Castelli's house, it was just the box and the phone. [See the full-size image at Corbis.]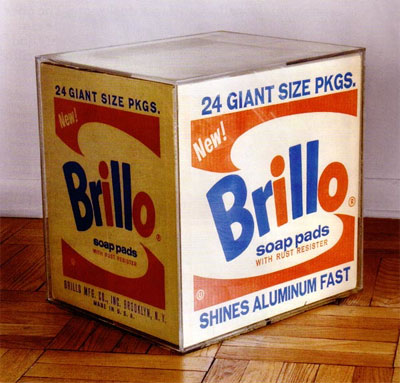 Irving Sandler's original Brillo Box, signed by its designer, Jim Harvey, image via]
The Warhol Authentication Board's report on the Pontus Hulten affair captures both the gift and furniture aspects of the dozen or so Boxes made in 1968:
Of the six Stockholm type boxes known to exist, three were given to [curator and later museum director Ollie] Granath as "souvenirs" for having helped Hulten with the Moderna Museet exhibition. Hulten kept the other three for his own use; two served as bedside tables for his children. [pp.9-10]

...

Of the three that Hulten kept, one was later given to the silkscreener who made the Malmo type boxes. [p. 10]
[Hmm, I wonder if Castelli's 1988 sale of his end table
"to European collector"
for $50,000 motivated Hulten to trade one of his own Stockholm type table/"souvenirs" in order to, uh, complete his edition?]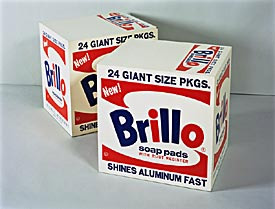 The report also mentions the 100 Pasadena type boxes, plus "as many as 16" additional Boxes identified in the CR that were "given as gifts or sold." Two of those 16 are the Oberlin Brillo Boxes, [right] which Warhol gave to Pasadena Art Museum curator John Coplans, who later donated them to the college's Allen Museum.
All this gifty goodness and casual domestic use leads me to speculate that LACMA's "missing" Kellogg's Corn Flakes boxes--10 known, plus at least 33 and maybe more, if they produced as many as Pasadena did--were treated as thank-you gifts to donors who paid for their fabrication, or were sold to "friends and family" of the museum. So keep your eye out.