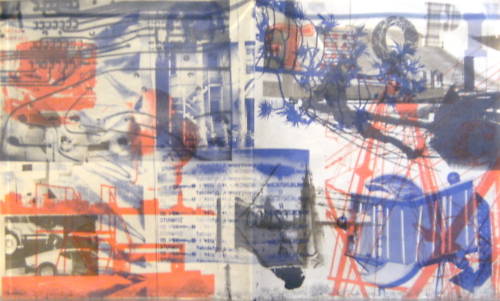 While pursuing his MFA at the University of Miami in 1976, artist Leo Rosenblatt created a printmaking process called Stat Art, "a technique incorporating drawing and mixed media on large sheets of commercial copy film in conjunction with light sensitive newspaper printing plates.
"Stat Art allowed unusually large runs of original lithographic art to be printed on large commercial newspaper presses with no image deterioration."
Rosenblatt began working as the art director for Tropic Magazine, published on Sundays by the Miami Herald, where he continued his experiments with Stat Art, culminating in what he calls "the world's largest edition of an original lithograph," by the well-known Florida resident and prolific printmaker, Robert Rauschenberg. People Magazine was on the story:
On Dec. 30, 1979 the Miami Herald printed 650,000 Rauschenbergs as the cover of its Sunday magazine, Tropic. In essence an original lithograph, it showed images of south Florida. The artist went to the Herald pressroom and signed 150 of them, thus enhancing their value--and the jubilation of readers fortunate enough to find one on their doorstep.
650,000? Why, that's almost as many prints as the rest of Rauschenberg's editions combined!
Piece For Tropic was a full 13x21.5 sheet, wrapped around the magazine. Rosenblatt wrote an accompanying article introducing the lithograph and its concept.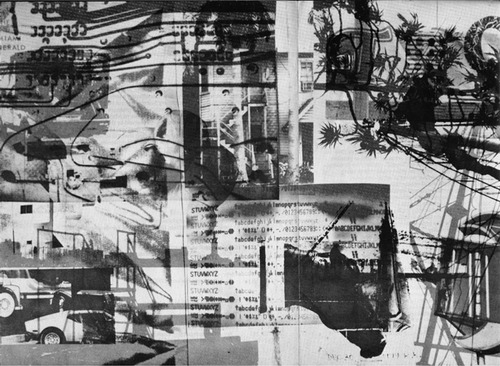 Above, via Rosenblatt's site, is Rauschenberg's original black and white artwork for Piece For Tropic. Up top is an unsigned copy, framed in Lucite, and accompanied by Rosenblatt's article, on eBay for $750. Even after 31 years, that seems ambitious for an edition of 650,000. Here's one for $975 from a gallery.
The 150 subscribers who received a signed copy were selected at random from the Herald's database; I haven't found any mention of any signed examples from the edition appearing on the market. If your grandmother was a hoarder, though, you may be in luck.