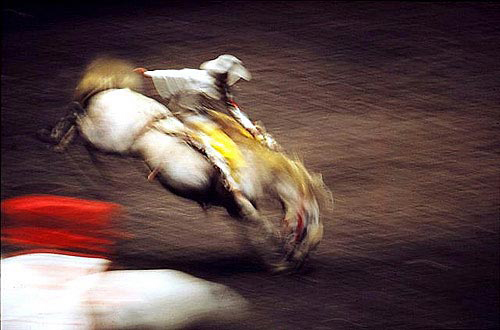 Now I love me some rodeo, but primarily bull riding. It pains me to think how many rodeos I've missed at Madison Square Garden.
So seeing legendary Magnum photographer [wait, is there any other kind?] Ernst Haas' 1957 photo of a bronc rider in MSG turn up at Phillips de Pury's photo auction this week was a nice treat.
Of course, it's an estate print, and I can't quite tell why the estimate seems higher than most every size and edition option available for retail here.

It almost makes me want to see what a thumbnail edition looks like; why should Richard Prince provide all the fun, right? And no sooner do I say that, than a Prince triptych pops up in the auction catalogue: Untitled (Joke, Girlfriend, Cowboy), 2001 actually includes a motion-blurred image of a Marlboro Man riding his horse through the snow.
Of course, that edition, published by Hatje Cantz, looks like it's still available in the primary market, too. And at a quarter the price. And the auction site even grabbed their jpeg from the publisher. I guess Phillips' operating premise is that there's still money to be made selling art to the Google-less. Good luck.