Our stop at the Stedelijk over the weekend gave me On Kawara on the brain.
Which makes me sad to have missed the San Francisco Art Institute's show this summer, On Kawara: Pure Consciousness In 19 Kindergartens. It was about a project where Kawara installed a week's worth of his date paintings in kindergarten classes around the world. [It's not new; I first heard of it in 2003 at an Ikon Gallery show.] Because just look at this tasty documentation. Is that an artist's book? Or better yet, an artist's boardbook? aha, a box set?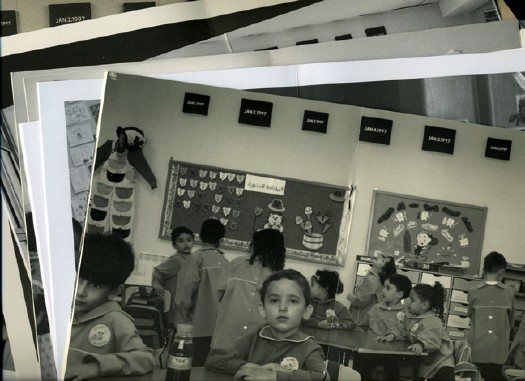 From the gallery site:
The purity of the consciousness in question thus could be seen as the children's perfectly beautiful indifference to the spectacle of exhibitionism before which, be they never so fully alive and absorbed in the round of their activities, they could not even begin to know how to react, how to become present. It is this radical failure in the know-how of response, this "blindness" before the panopticality of artworks raised on high, this easeful neutrality, that the archival project On Kawara: Pure Consciousness at 19 Kindergartens aims to invite its own "beholders" to consider and, perhaps, to emulate--no doubt with the same unwitting theatricality and slight desperation that the sophisticated adult always betrays when attempting to rediscover within herself what Friedrich Nietzsche called, in Beyond Good and Evil, the seriousness that one had as a child at play (den Ernst . . . , den man als Kind hatte, beim Spiel).
That is one helluva sentence.