I'm thinking I might have to change the name of this blog to Holy Smokes, but holy smokes, did the past ever look more futuristic than it did in the pages of LIFE Magazine, November 11th, 1957?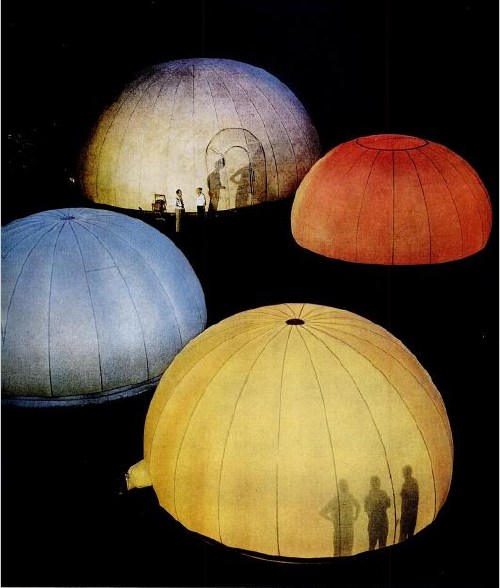 That's where I found the house of the future of the past, Eduardo Catalona's Raleigh House, in the issue titled, "Tomorrow's Life Today - II." There's also THE Monsanto House of the Future from Disneyland. There's an Alcoa aluminum beach cabana thing; the cover's got a transparent, inflatable pool dome; a three-generation family of mimes, I guess, laying around in black leotards on a candy-colored assortment of foam slab furniture. And then there's this:
Nylon Airhouses pop up on a university campus in Kentucky. Made of U.S. Rubber Company's Fiberthin, a vinyl-covered nylon fabric four times as strong as waterproof canvas yet 40% lighter in weight, domelike houses are kept up by air, pumped in by small motors. They are anchored at base by a ballast ring of sand or water...
According to Sean Topham's
Blowup: Inflatable Art, Architecture & Design
, this "Fiberthin Village" or
"Rubber Village"
of airhouses was designed by none other than Frank Lloyd Wright.
Actually, according to Billboard, US Rubber was manufacturing the warehouse-sized airhouses, but the domestic-scale models were being produced by the Irving Air Chute Company of--aha--Lexington, KY. Now that you mention it, they do look rather parachutish.
But why is Billboard reporting on repurposed military technology? Because in the summer of 1957, airhouses were competing against an international chain of "balloon bijoux" for the right to stage concerts in Central Park. What's "most appealing" about these inflatable concert venues, we learn, is that they promised "the virtual elimination of large crews of roustabouts to set [them] up."
In 1961, The Rotarian reported that, in addition to U.S. Rubber--which also introduced Keds, by the way, in 1917--a major player in the growing inflatable dome building industry was G.T. Schjeldahl, who also fabricated the Project Echo satelloons. See, it all comes back around.