Brooklyn-based photographer Ofer Wolberger is right in the middle of an interesting project: The Photographic Book Series, twelve limited edition artist books, each with a specific subject or theme. Sometimes he uses source photos, sometimes they're [presumably] his own.
The newest volume, #7 - Covers, is actually a handmade book of photocopied hardcover books, and it's definitely more interesting than it might sound. Part Nina Katchadourian, part Sigmar Polke, it's really quite poetic and beautiful.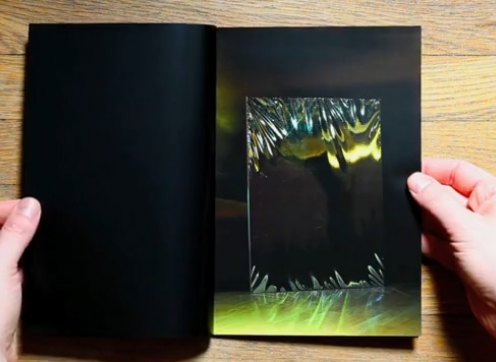 Another standout from the Series is #3 - Town, and I'm not just saying that in a "Look, shiny object!" way. But Town is a series of photos of a large silvered canvas/painting propped up on the edge of a gel-lit stage. Its nice combination of abstract and documentary makes it more Moholy-Nagy than Walead Beshty. And it makes me think it could have been shot after a Silver Clouds party at Warhol's Factory. I.e., awesome.
Publications | Ofer Wolberger [oferwolberger.com]
Book trailer for Covers from Ofer Wolberger [vimeo]