An interesting curatorial pairing where you'd least expect it: deep in the middle a random, Sunday afternoon print sale at Phillips de Pury.
Lot 327: Washington Monument, is an unnumbered edition sliced up from a wallpaper Andy Warhol made in 1974 for an unknown commission, but apparently never installed. Dia had 322 rolls of the stuff, which it gave to found the Warhol Museum.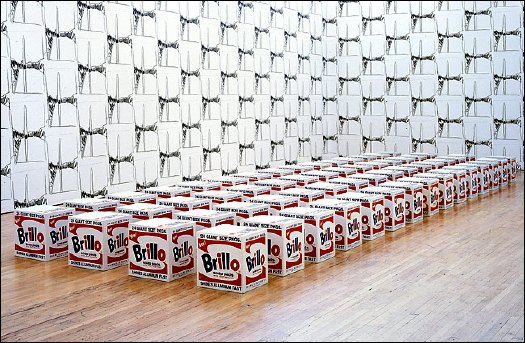 With a few takebacks, I guess, because the Warhol let Dia Beacon install a whole roomful of the stuff in 2005. It looks kind of nice and abstract, a nice background for those Pasadena Brillo Boxes. [image via nyt]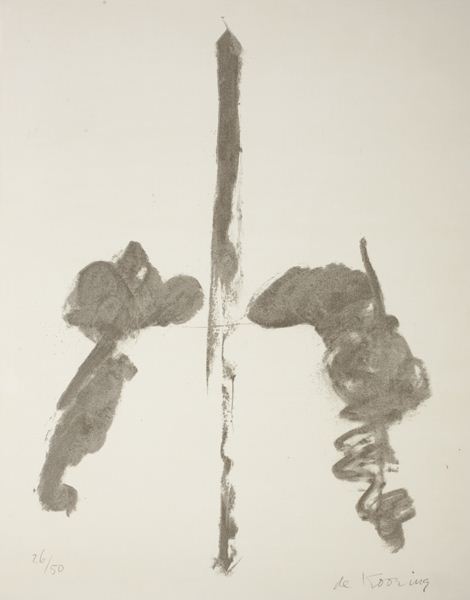 Meanwhile, Lot 328 [above], was Washington Monument, a properly signed and numbered lithograph by Willem de Kooning, published in 1970. The composition's almost identical to Warhol's, as if both artists used the same photo or postcard for a source. Or as if Warhol used de Kooning's print, which would be pretty unusual. Several of these have come up at random auctions this year: #13/50 at Bloomsbury; #14/50 at Swann.
An abstract representation of an abstract original, de Kooning's Washington Monument is uncontroversial enough to be displayed in a wide range of otherwise complicated settings.
The Phillips version is #26/50, and it was sold by the defunct law firm Dreier, LLP, which was implicated in a massive securities trading fraud sideshow to the Bernard Madoff scandal.
And two related, slightly larger charcoal drawings, dated 1969-70, are on loan from the Estate to the US Ambassador's residence in London [pdf].
The drawings are untitled, but every numbered lithograph I've found is titled simply, Washington Monument. But a Connecticut antique dealer once had a signed, proof, which apparently came from a close friend of the artist. The title of the work, the friend said, is actually Washington Monument Peace Sign, and in the bottom corner, in place of an edition number, de Kooning put a little peace sign.