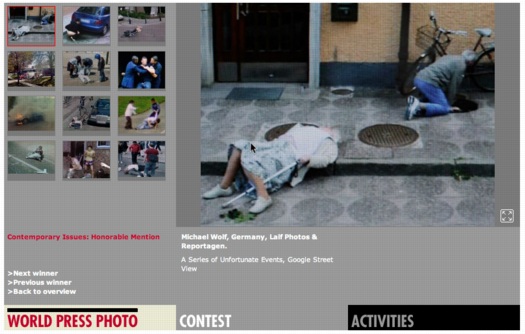 Michael Wolf thought he would be provoking a heated response when he entered four of his series of Google Street View photos in the World Press Photo competition, and he was right. The "A Series of Unfortunate Events" project was awarded honorable mention in the Contemporary Issues category, and some folks are kind of freaking out about it.
At least that's how the issue is being framed by the British Journal of Photography, who spoke with Wolf:
The work, he tells BJP, is his own. "I use a tripod and mount the camera, photographing a virtual reality that I see on the screen. It's a real file that I have, I'm not taking a screenshot. I move the camera forward and backward in order to make an exact crop, and that's what makes it my picture. It doesn't belong to Google, because I'm interpreting Google; I'm appropriating Google. If you look at the history of art, there's a long history of appropriation."
I love that: "The work, he tells BJP, is his own."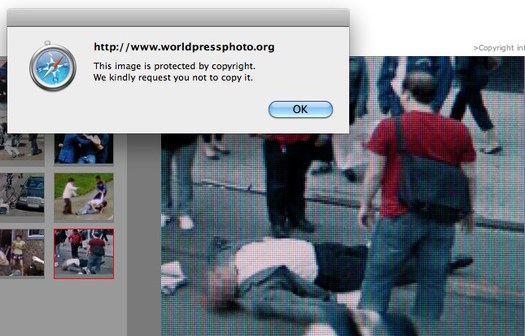 Appropriation's all well and good, but the art history of rephotography is hardly controversy-free: folks like Sherrie Levine and Richard Prince have both faced the IP wrath of their subjects' original photographers.
But it's interesting that Wolf finds his ownership and authenticity in such a contested process as rephotography, though, considering that it was not previously stated or clear.
And when he praises the World Press jury for making "such a conceptual leap," he's not referring to this appropriation strategy, but to recognizing "someone that photographs virtually." Except that he's so emphatic about not photographing virtually.
I'm sure it's bold, and I'm sure it is a lot of conceptualism for the photojournalism system to handle, but it sounds like Wolf wants it both ways. He insists his finger on the button preserves his photojournalistic credibility, and there's no doubt that the Series of Unfortunate Events images he submitted have powerful composition, content, and emotion. As I said before, they look
like archetypal on-the-scene photojournalism, only stripped by any news or context other than place. Though Wolf himself eliminates any place specifics or links, leaving each image to stand on its own.
By completely decoupling these images from their context, from their most basic metadata, even, Wolf is not creating photojournalism, he's subverting it. He's finding the images photographers would die to shoot, and then tossing out even the incomplete scraps of geospatial information Google provides for them. Even as he delivers the compelling visual goods, Wolf has obliterated not just the idea that these photographs "mean" something; he's undermined the photographer's traditional authoritative role as a witness to the events in his images.
What Wolf is doing is not photojournalism, it is art, art that calls the whole construct of photojournalism into question. No wonder the shutterbugs are pissed.
I'm still surprised to not hear more critical awareness of Google's role here. If anything, Matt Lutton's defense of Wolf's photographic chops seems to wilfully ignore the aesthetic and conceptual implications of Google's project:
Since everything is photographed in Google Street View, nothing is. It's a mirror with no intention, art, journalism, or perspective. The photographer, by choosing what he makes a screenshot of (and we'd be fine with this winning if he only made screenshots, by the way) is making the photographs, framing them, choosing what to show. Google did none of those things. Even a screen-grab, if you are composing and choosing a moment, is a photograph.
Anyway, kudos to Wolf, sympathies to the photojournalists, I'll just be
on my way
.
World Press Photo: Is Google Street View photojournalism? [bjp-online.com]
Some thoughts on Google Street View and World Press Photo [dvafoto.com via @nancyproctor]
Michael Wolf's website [photomichaelwolf.com]
my Google Art Project, part 1
Previously: Michael Wolf, Street View Photographer
White House News Photographers Upset At Staged Photos They Don't Take