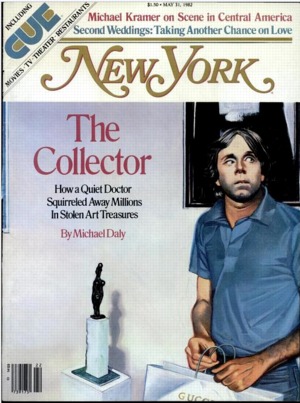 Wow, so I'm just throwing Jasper Johns' name into the archives of New York Magazine, and up pops this wild story from 1982 about Frank Waxman, a Philadelphia doctor who amassed a blue chip collection of tiny artworks by stealing them from galleries.
He was on the Friends of the Philadelphia Museum committee, hosted collection visits, and basically stole 170 artworks in four cities before he was caught.
Waxman got a Johns Flashlight sculpture from Irving Blum's desk in SoHo; a couple of Joseph Cornell boxes; an Agnes Martin from Robert Elkon Gallery; here's Herbert Palmer's 2004 account of having a Picasso bronze stolen from his Los Angeles gallery:
MR. PALMER: And one Christmas, I left a few days early to go skiing. And I get a phone call from the young lady who was working here then; she said, Mr. Palmer, did you put the Picasso away for safekeeping? I said, I don't think so. She says, well, it isn't there.

DR. EHRLICH: [Laughs] Oops.

MR. PALMER: I said, do you think someone might have taken it? She says, no the case is screwed down. I [She] went back there and after 10 minutes on the telephone, she comes back; the screws are not in the case. She says, I know who took it. I said, do you know his name? She said, no. The man with the trench coat, he came in twice. Once he came in, and he looked around. The second time he came in, he asked me to show him a picture, and I had to go to the back of the gallery to get the picture.

DR. EHRLICH: Oh.

MR. PALMER: And at that time, he took the Picasso and slipped it into his coat, which was designed specifically for stealing small sculpture. It had big pockets.

DR. EHRLICH: Wow.

MR. PALMER: Big, padded pockets. She says, he took it. I said, you have no clue as to his name or anything? No. I said, call the insurance company, call the police, and don't you leave - Christmas Eve - don't you leave until the police come. They came and they wrote it up - you know, the paperwork.

While they're writing up my case, the police get a phone call. A woman is screaming. He took my Rodin, she said; some crazy woman is yelling, hey, somebody took her Rodin. I said, I know who it is. If you're quick, you can catch him. It was Feingarten, Mrs. Feingarten. She had a gallery on Melrose, and this guy - same guy who stole from me, went down there and did the same thing - sent her to the back; while she was in the back, he took this Rodin hand she had, and put it in his coat, and walked out with - and she saw him do it. And she screamed at him, put that down. He said, don't come close - threatened her, so she didn't; she called the police.

And she said, wait a minute - I have a clue. He left a phone number, because it was Saturday, and I had to open the gallery for him out of hours.
Cops finally cracked the caper, Waxman was eventually arrested, got the psychiatric help he needed, all the artwork was returned, and now people get to tell fun stories about how their stolen Picasso was on the cover of
New York
magazine. It's win-win. The only loser here--since Waxman didn't get started until the late 1970s, and was thus too young to have been involved in the Johns
Flag
caper--is me.
Oral history interview with Herbert Palmer, 2004 Dec. 6-22 [aaa.si.edu]