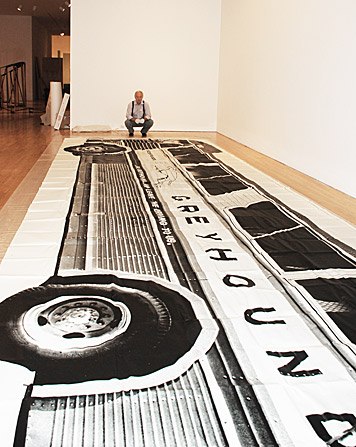 It's true, I like Mason Williams' 1967 Bus for what it is.
But right now I love it for how it was made, the whole ridiculous, unanticipated, dogged, improvised, and ultimately successful process: the 4x5 negative; the 16x20 print; the 16-tile silkscreened billboard; the one-ton palletful of paper on the driveway; the cases of Scotch tape on the borrowed dance hall floor, the giant folding by hand; the warning not to open the box in the wind; the realization that after all that, most people are never gonna open the box in the first place.
That last point should negate the question I've been pondering, then, which is, if you were to make a giant photomural poster this way today, what image would you use? Assuming--or asserting--that it mattered, and that even though you're doing it for the process, you're not just going to use random image noise. [Though that is one option.]
Anyway, a bus is obviously out; you might as well do a reissue of Williams' original. And though a whole host of large vehicles would be interesting--a dump truck, a train, a plane, perhaps a collector's G5 as a commission--it might also be a little derivative.
Mondo-Blogo suggested "the 'dirtbergs' all over the city now. Facinating how the snow gets so black, and so filled with the most disgusting things." And I do like their scale, ephemerality and banality, and the combination of abstraction and landscape.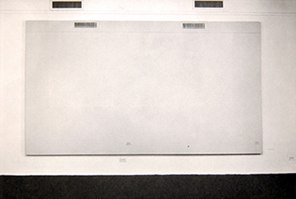 You can't go too architectural without treading on William Anastasi's toes, or without aping Urs Fischer's totalizing wallpaper. But an interesting structure or storefront does have its appeal, even though the idea is a print that feels more like a picture of something, and not an environment or space. It's objectification through photography, and in turn, turning that photo into an [ultimately, probably] unseen object in a box.
Cheyney Thompson's epic lifesize painting makes me want to do a newsstand, though.
And since these are objects, why not a large sculpture? Like the gilded Gen. Grant at Grand Army Plaza? Or Simone Bolivar on Sixth Avenue, for that matter? Why not a Torqued Ellipse? Imagine all the ink that silkscreen'd take.
Or maybe a rock or a tree.
What am I not thinking of? I'd be interested to know. What would you like to see? If I make one of them, I'll be glad to send you a copy. Though if involves a shipping pallet, I may ask for your FedEx account number first.