Alright, so I'm back from a day mostly spent at MoMA:
Wow, the Film Department is firing on all cylinders.
I remember one year when Chaka Khan yelled at the crowd for not paying enough attention to her, and now this year, Kanye West is performing to mad hype. Crazy.
Hmm, the fourth floor where I'd hoped to spend a great deal of time studing Jasper Johns' Flag was "closed for reinstallation," which means they're part of the Missing Flag Coverup! Trust No One!
There are some Bridget Riley paintings in the hallway next to the cafe [I know] that look like they came from Bill Seitz's 1965 Op Art blockbuster, The Responsive Eye. Don't tell Larry Aldrich, though, or he'll turn them into fabrics.
Really, a very crowded place.
Oh, I bought this anthology, Curating and the Educational Turn, and I think it's going to be sweet. Unfortunately, with 27 different authors the chances of anyone topping this sentence, chosen at random from the introduction, are slim-to-none:
For several of the authors gathered here, these primarily function as points of departure for performative or polemical texts which themselves refuse a masterful discourse of explication in an attempt to honour the ethos of counter-institutional and counter-hegemonic practices of dissent and emergence.
Maybe curators have added pedagogical toolsets to their praxis because they're fed up with people always asking them to explain what the hell they're saying.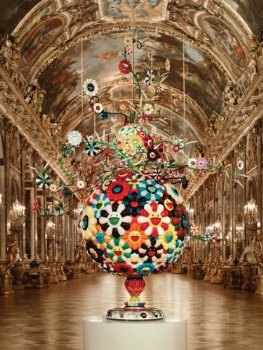 I almost bought what is undoubtedly the greatest book of its kind, Murakami Versailles, but it was too heavy to contemplate carrying it around. Also, I expect it will be entered into evidence in Murakami's trail before the People's Post-Revolutionary Court, so I can just grab a scaned version soon enough.