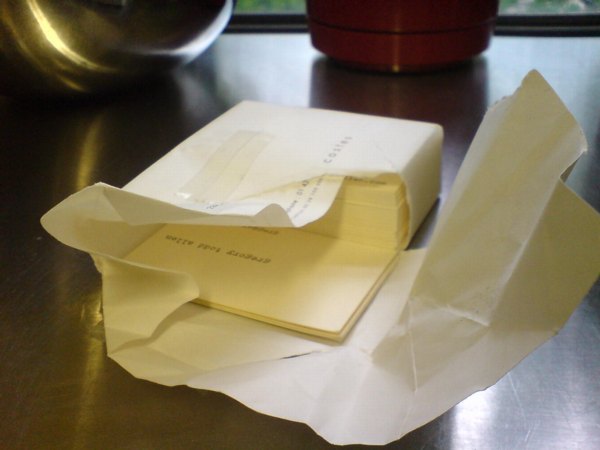 There sure has been a lot of calling card hoopla these days. It seems like it peaked just as I was moving an old file cabinet, and I found this packet of cards I had made in 1999 in Paris. They were still wrapped in the Hotel Costes stationery I'd used to break the order down and transport it more easily in my luggage.
I'd gotten them made at Calligrane, a small paper store in the Marais that still doesn't have much of a web presence. I remember it as a little giftier than I like, with elaborate desk sets or something, but still the only place I could find who could do the typewriter-like letterpress cards I was seeking.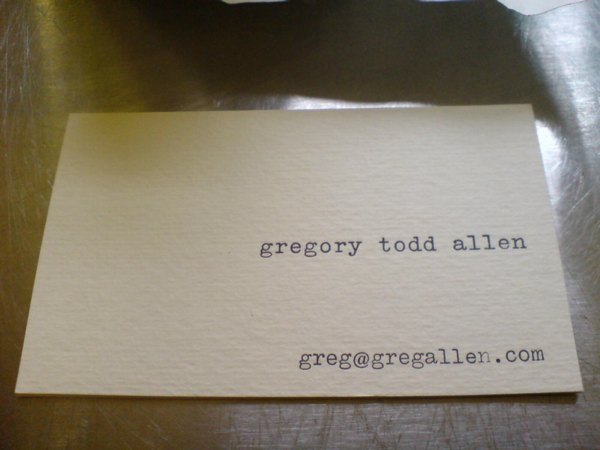 Because I did not want engraved cards, and I didn't want fine paper. I already had business cards like that, and so did all kinds of people. What I needed, I told them, was a replica of the earlier calling cards I had made in 1995.
That's when I had a business card with three addresses and six phone numbers in two countries on it, it was ugly and ridiculous. All I needed, I figured, was email [gallen@echonyc.com], and since it's the internet, I really thought the cards should be typed.
I got really lucky, it turns out, because in Vieux Nice, just up the hill from the cathedral, was a little printing and paper studio run by a Scandinavian guy named Peter. He'd salvaged the type from old typewriters to do letterpress with. Wow, those were clean.
I still have one small box of those somewhere. It has Peter's full name in a stamp on the bottom. I think when I looked him up to order replacements, he was still in Nice, but had switched from printing to sculpture. Gotta track that guy down again.