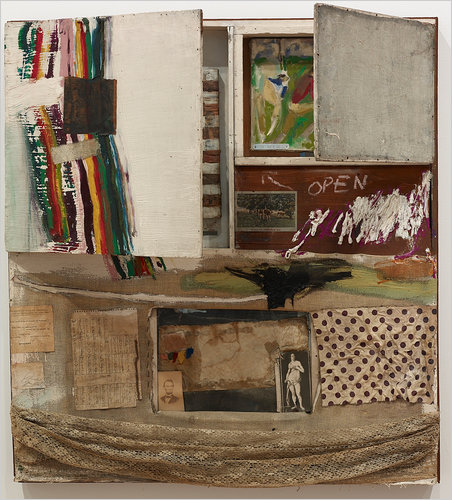 Short Circuit, Robert Rauschenberg, et al, via the estate/VAGA
I always [well, for a weekend or two last December, anyway] figured I'd find the original Jasper Johns flag painting that was inside Rauschenberg's Short Circuit before the Combine was sold, so that it could be presented to its eventual owner in its original, art history-upending state.
Yeah, well. Turns out the missing flag was not a dealbreaker for the Art Institute of Chicago. Carol Vogel just released the news that James Cuno orchestrated the Museum's purchase of Short Circuit, Sturtevant flag and all, from the estate, for an anonymously sourced price of $15 to $20 million.
In her piece, Vogel mentions the flag, and the Susan Weil painting, behind the cabinet doors. But then she says something I've never heard or seen anywhere: that though both were invited, neither Ray Johnson nor Stan VanDerBeek actually contributed pieces to the Combine VanDerBeek we knew, but Johnson?
I'd always understood that Johnson was in, and I'd assumed that the collage in the center of the lower half, with the Abe Lincoln and Venus postcard, was Johnson's. If it blended so seamlessly with the rest of the Combine, and with the rest of Rauschenberg's oeuvre, well, all the better. Johnson was famously sanguine about his collage work, and loved if his artist friends tweaked or reused it. Or so I'm told.
I like this reproduction of the piece, too, with the doors barely ajar. I've heard a story from a couple of people now, that when Johns went to Gagosian to see the show, he mentioned that the doors on Short Circuit were supposed to be closed. This image kind of finesses the door, concealing just enough so that the first thing you say when you see the piece is, "Holy smokes, that's a Jasper Johns flag three years before he showed it anywhere!"
Prime Rauschenberg at Chicago Art Institute [nyt]
Previously: Until I get some tags, this is how you find all the Short Circuit-related posts around here