As I mentioned the other day, I've been going through our storage space, getting these time capsule-like pops of memory from old files and boxes and stuff. One of the more unexpectedly unexpected encounters: print photos. I just don't have envelopes of photos or snapshots sitting around anymore, not like I did in the 1990s.
And in that way, at least, I am like Tacita Dean, an artist whose films I've long admired, but whose work in photographs I haven't really thought of much until now.
For her 2003 show at the Kunstverein Dusseldorf, Dean excavated a set of forgotten negatives she shot while living in Prague in 1991. As Catrin Lorch put it in her review of the show for Frieze:
[Dean] printed almost all of them to make a series of black and white, small-format photos. The almost forgotten scenes reveal a cross-section of the early years of post-communist Central Europe: broken-up cobbles, blurred, speeding trains, gracefully curving stairwells suffused with the crumbling charm of Eastern European modern architecture. A woman's fat legs in black tights; a friend at the breakfast table. Looking at these photos arranged in open wooden boxes on a small table was like opening a message in a bottle.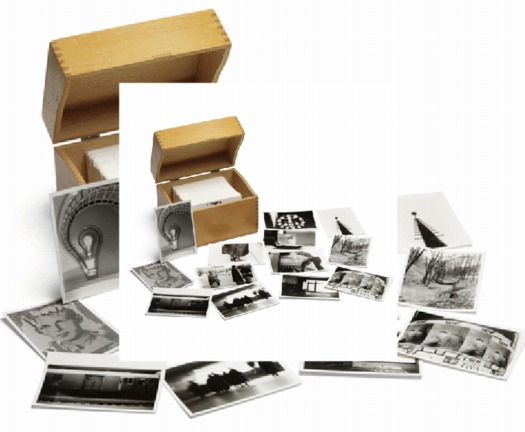 In 2008, Sotheby's sold a set of Dean's Czech Photos, which she'd published in a small edition, for a remarkable 3,750 GBP. [Sotheby's flash-based e-catalogue site, where this screwed up double image comes from, is a web-breaking disaster,, btw.]
And then this morning, the lately irascible Jonathan Jones [h//t modernartnotes] mentions Dean's "ambitious prints derived from photographs," which he calls "her most powerful creations." Well, which, what?
Sure enough. And ever true to her analogue roots, they're photomurals. And overpainted photomurals to boot.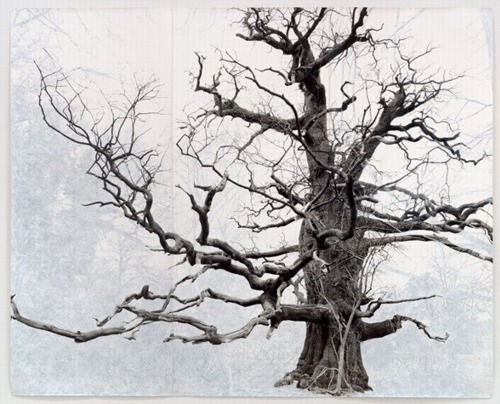 Beauty, 2006, 3.6 x 3.75m, collection sfmoma
Dean showed these large-scale works in her 2007 show at Frith Street Gallery in London, titled Wandermüde, which is the little-known corollary of Wanderlust. She made what are essentially portraits of the oldest trees in Southeast England, printed them on a large scale--using Steichen-style photomural-as-wallpaper technique--and then painted out the non-tree elements of the photo with gouache.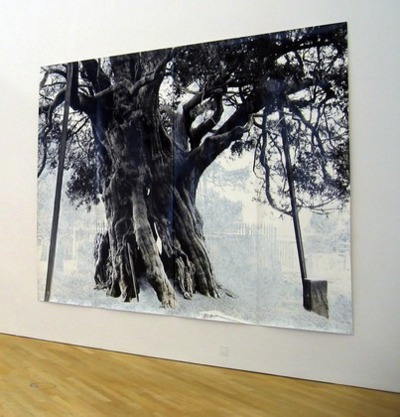 Crowhurst, 2007, 3x4m, collection: moma
That's one in SFMOMA's collection up top. Above is Crowhurst, from MoMA's collection. I like how the oblique view clearly shows the work's materiality, its seams and curled edges. MoMA's website says they showed Crowhurst in 2007-8, but I confess, I don't remember seeing it. I hope I didn't mistake it for a Ugo Rondinone tree drawing and keep on walking.