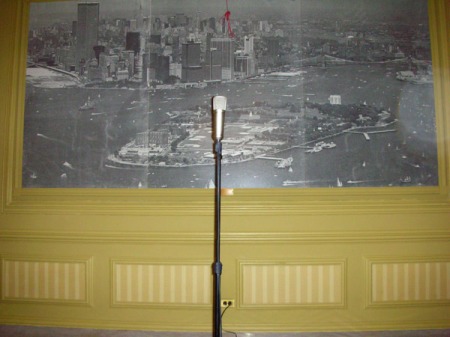 It was the other night, while Googling around for Tris Vonna-Michell info, that I found my way back to Carefully Aimed Darts, an awesome art-related weblog which went dormant about a year and a half ago. And I remembered how the very well-(in)formed writing had always left me wondering who was behind it. I'd go to openings or other art world gatherings and try to imagine meeting the writer behind CAD and not knowing it. Maybe I have, who knows?
Anyway, it turns out CAD had carefully aimed his/her camera at the microphone in Pershing Hall, on the Manhattan-side tip of Governors Island, where Vonna-Michell had performed in 2009 as part of a Creative Time show.
And there was this wonderful, slightly frayed-at-the-edges photomural of an aerial view of Governors Island, with lower Manhattan filling the top of the image. Judging by the state of the landfill beach that would become Battery Park City, I'd guess the photo was taken in the mid-1970s.
Tris Vonna-Michell: History-Telling [carefully aimed darts]