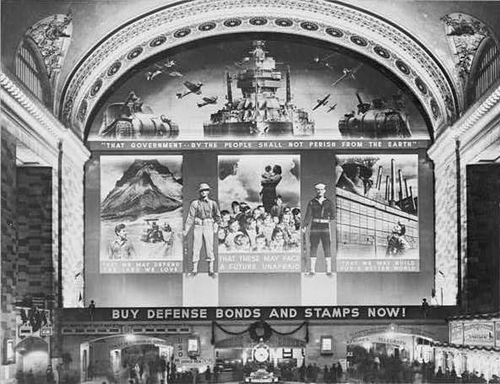 Instead of jumping to the first search result, Google's "I'm feeling lucky" button should go to something tangentially related but certifiably awesome and probably better than what you were looking for in the first place. For the first datapoint in fitting that algorithm, I submit this post from The Bowery Boys about the "World's Greatest Photo-Mural,' as proclaimed by the New York Herald upon the dedication on December 14, 1941 [!] of the Defense Bonds Mural in Grand Central Terminal, New York City, USA.
At 96x118 feet, and covering the entire eastern wall of the station's Great Hall, it was certainly the world's largest photomural to date. [Only an Axis appeaser would point out that it's actually six photomural elements installed in a larger, non-photographic composition.]
The mural was created by the Farm Security Administration's Information Division, the legendary New Deal documentary photography propaganda unit run by Roy [no relation to Ted] Stryker. The three main photocollaged panels depicted what America was defending: Our* Land, Our* Children, and Our* Industry. [* Offer apparently not valid for non-white Americans, as the NAACP pointed out in protest letters to the FSA.]
Classic racial exclusion notwithstanding, I was most amazed that a giant war bonds photomural in Grand Central Station was the government's instant response to the attack on Pearl Harbor. And I was also wrong. According to a contemporary report in Time Magazine, the FSA photo staff spent three months designing and fabricating the massive photomural. Which should be evidence enough for the conspiracy theorists who suspected that Stryker and his puppet FDR had been planning to get the US into war all along. But it turns out the Treasury Department had already begun its defense bond campaign in 1940, and that the government marketing masters at the FSA had already been enlisted in Treasury's bond-selling campaigns.
Which seems odd, that a Depression-era tenant farmer resettlement program would morph into a historically ambitious documentary project for rural America, and then into a war bond marketer, before becoming the military propaganda operation for D-Day. Odd until you hear Stryker's longtime assistant Helen Wool describe Stryker's vision of the FSA's photographic mission in a 1964 interview for the Smithsonian:
[I]n that drastic difference he still stuck to the same type of basic idea, that America is America and that's all there was to it. We had psychological warfare films, and we had displays, and we had defense bond things, and everything else. But, underneath it he was selling America as it should be sold. [emphasis added because, obviously]
So what does the 3-months making of the world's largest photomural entail? Fortunately, the snap-happy photographers at FSA like Edwin Rosskam and Marion Post Wolcott documented the process, in a group of
53-70 images now at the Library of Congress
:
First, they searched through 15,000 or so prints for the right elements.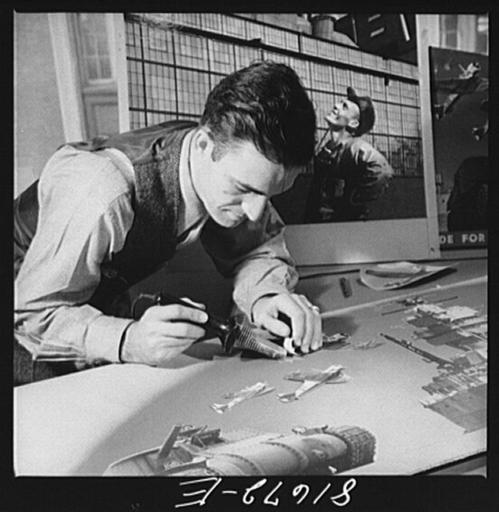 Which folks like Milton Tinsley pasted up into dummies: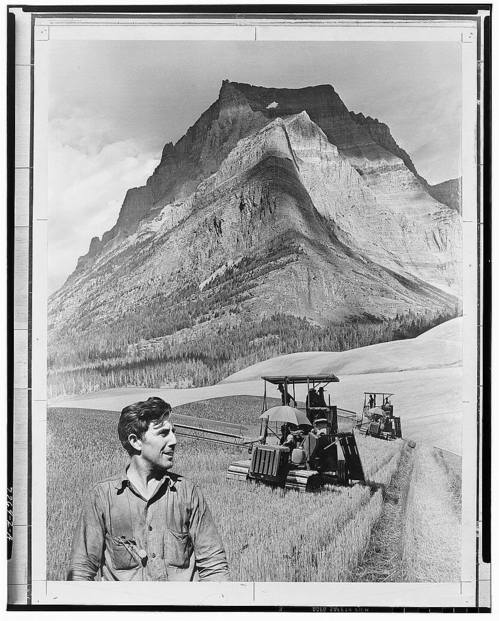 California farm worker looks at combines from Washington in front of Montana's Going to the Sun Mountain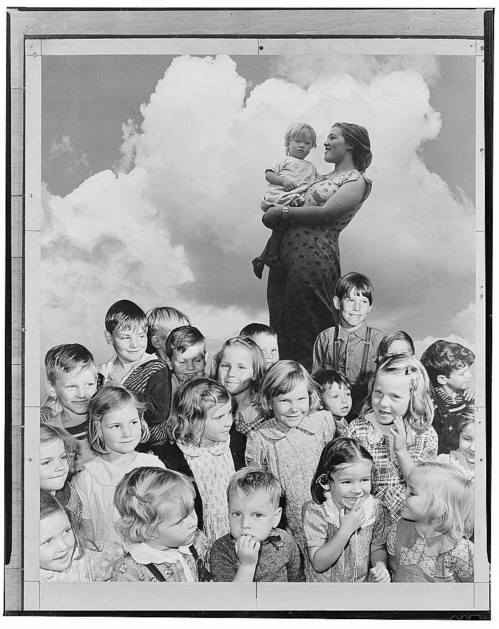 Idaho farmer's wife and a passel of kids in a migrant farm camp in Visalia, CA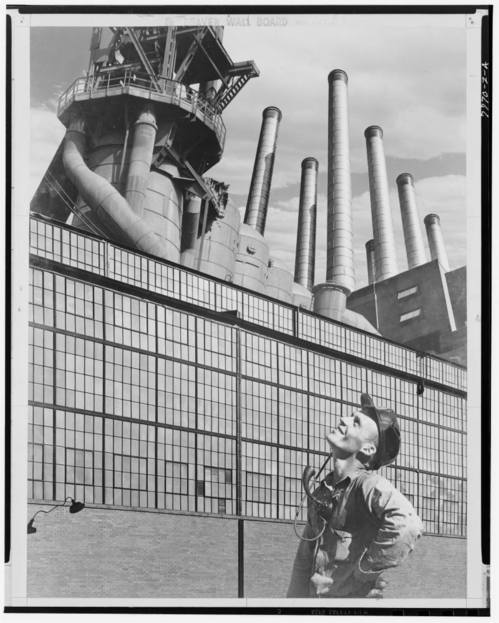 They shot clean images of the paste-ups at the US Coast and Geodetic Society, which they then enlarged in the FSA's mural printing lab: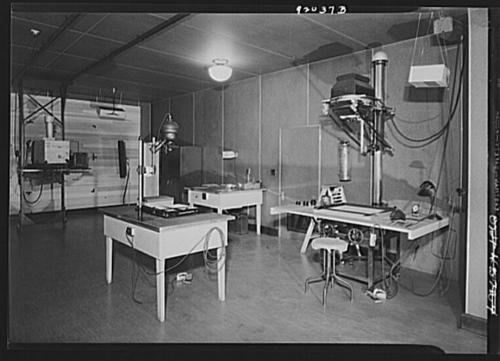 They checked the giant rolls and panels for exposure and tone matching: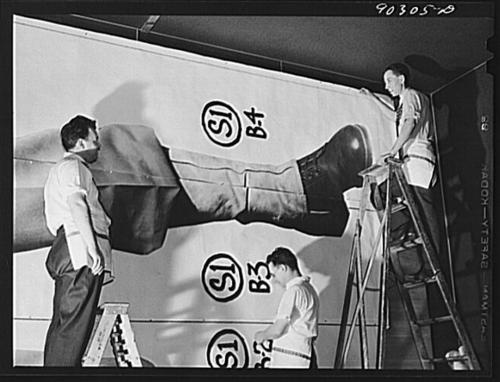 They mounted the photo rolls onto homasote panels with wheat paste: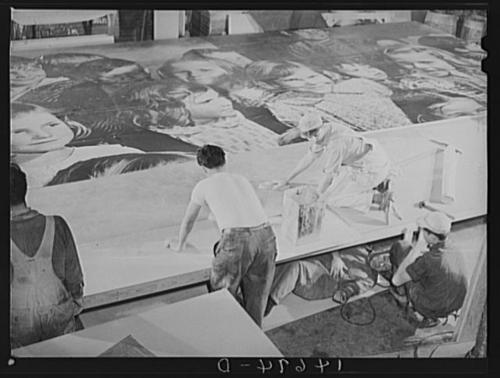 The large figures of Our Men In Uniform were cut out after being mounted: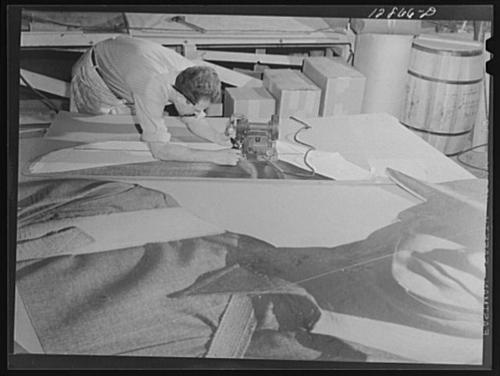 And the whole thing was cut down into standard-sized panels, shipped to New York, and hoisted into place on a giant scaffolding across the eastern windows of Grand Central Station.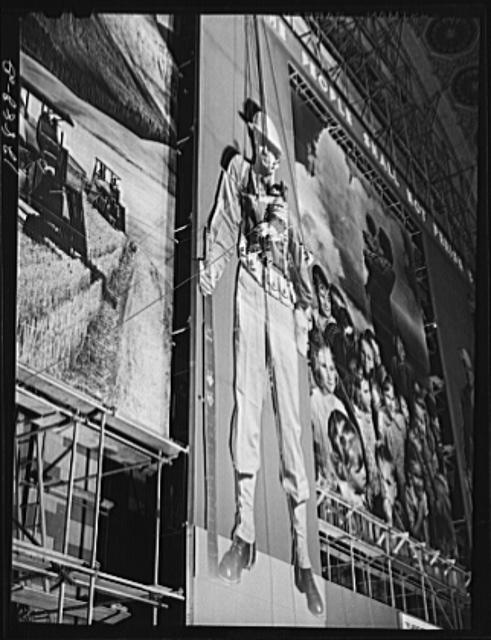 Some time during the installation process,the US was attacked and declared war on Japan, Germany and Italy. A week later, the All Angels Choir performed at the dedication ceremony [?] for the mural, which no one so far but Helen Wool has given the title, Post Pearl Harbor.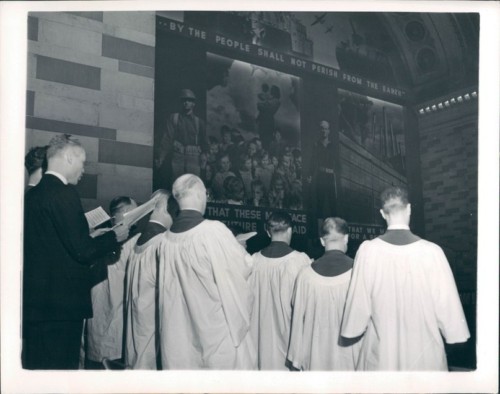 I just bought an old press archive copy of this photo on eBay.