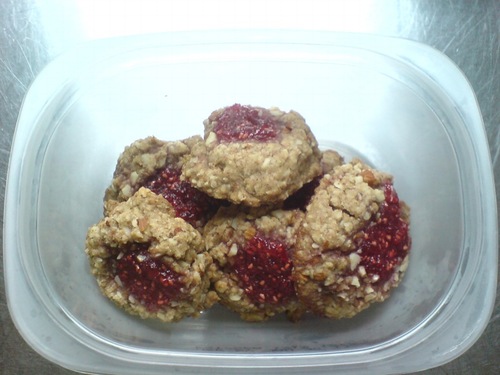 Someone recently tweeted about John Cage's cookie recipe, which the Walker had posted on their blog a few weeks ago
Preheat oven to 350 degrees.
In a food processor, grind:
1 c. raw almonds
1 c. raw oats
Combine almonds and oats in a large bowl. Stir in:
1 c. whole wheat flour or brown rice flour (if you want a gluten free option, you may need to add slightly more than the 1 c. brown rice flour, so that you are later able to form balls with the dough)
Add ground cinnamon to the dry mixture.
To the dry mixture, add:
1/2 c. almond oil (other nut oils work as well)
1/2 c. real maple syrup (no Aunt Jemima!)

Stir mixture until you are able to form one-inch balls. Place on ungreased cookie sheet. Flatten slightly, and press a small dollop of your favorite jam or preserves (jelly is too thin) into the center of each cookie. Bake for 15-20 minutes, turning the pan once, halfway through the baking process. Cookies are done when light golden brown. They store well in the fridge.
Well, yesterday, we tried it, and the recipe works, and they are very good, as good as anything made primarily of almonds, cinnamon, maple syrup, and homemade raspberry jam could be, anyway. They're very rich and dense.
A couple of tips about the recipe:
We have almond flour, or almond meal, which is fine-ground almonds, which I was tempted to use instead of foodprocessing actual, whole almonds. But I didn't, and I'm glad. The more coarsely ground almonds give the cookies basically all of their texture.
We ended up adding about 2 tablespoons more whole wheat flour, because the recipe seemed a little oily [the only liquid is almond oil and maple syrup.]
The recipe says to cook them until they're golden brown. Which has to be a trick, since they started out golden brown. They don't really change color, so I ended up cooking them the full 20 minutes. You'll poke them and think they're not done, and that they won't stay together, but they cooled down and firmed up.
Let Them Eat Cage Cookies [walkerart.org via someone, thanks!]