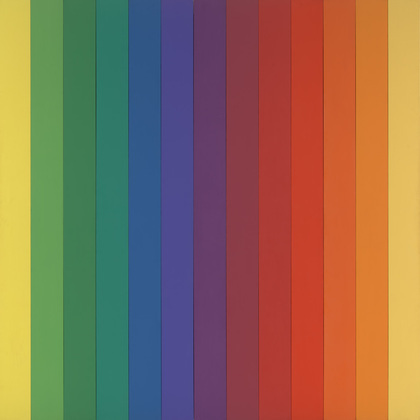 Spectrum IV, 1967, image via moma
Amazing how you can look at something so often, for so long, how you can like it, seek it out, even, follow it, poke around the awesome/odd parts, all without really realizing what it is you're looking at.
So as I start trying to paint some monochrome metal panels in a variety of colors, I can still somehow end up not thinking about Ellsworth Kelly. Which is a mistake.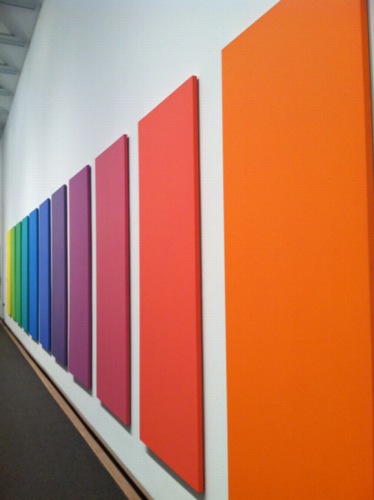 Spectrum V, metropolitain museum, image via jeffdtaylor
And not just any Ellsworth Kellys, but the Kellys I see most regularly: Spectrum paintings from the late 1960s that anchor both MoMA and the Met. [Jeffrey Taylor's photo on his Tumblr finally set me straight this morning.]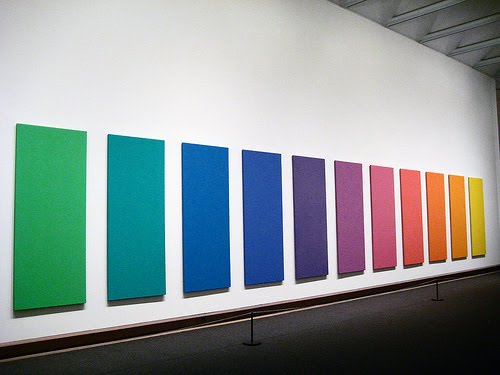 image via patrick-paine
But anyway, Kelly's writing. "Notes of 1969" was first published in a 1980 catalogue at the Stedelijk, and was revised slightly in 1993 for inclusion in Theories and Documents of Contemporary Art: A Sourcebook of Artists' Writings in 1996:
The new works were to be objects, unsigned, anonymous.

Everywhere I looked, everything I saw became something to be made, and it had to be exactly as it was, with nothing added. It was a new freedom; there was no longer the need to compose. The subject was there already made, and I could take from everything. It all belonged to me: a glass roof of a factory with its broken and patched panels, lines on a road map, a corner of a Braque painting, paper fragments in the street. It was all the same: anything goes.

I felt that everything is beautiful but that which man tries intentionally to make beautiful, that the work of an ordinary bricklayer is more valid than the artwork of all but a very few artists.

[via Google Books]
I mean, I
could have written
wish I'd written that yesterday. Except that Kelly wrote it in 1969, and I had no idea about it.
UPDATE: Or maybe I had no idea that's where I got it. In 2009, I was reading Kelly on his early development and his interest in "painting objects," a noun, and the use of fabric for canvas as a "ready-made color":
Another important example of a panel painting that explores the idea of the mural was Red Yellow Blue White (1952). It's the only one I ever did using actual dyed fabric of ready-made colours, which moves the painting into the realm of real objects. It consists of five vertical panels, each with five canvases. The vertical panels are separated on the wall and the intervals of the wall surface between them are part of the painting.
Only, at the time, I was just researching the kind of incredible oddness of an Ellsworth Kelly dress for someone else. 1952, eh, Blinky?
Previously: Dress, 1952, by Ellsworth Kelly??