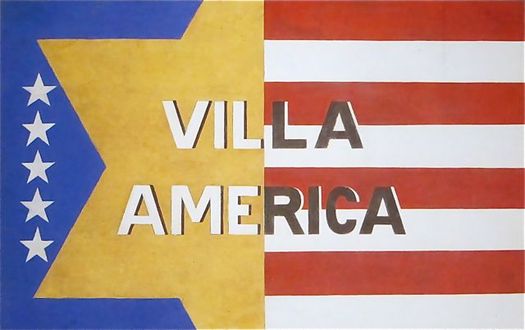 Sometimes I really just am slow to put things together. I mean, I've written at length, ad nauseam, even, about the history of Mark Cross. Mondo-Blogo had a huge post months ago about what Superfreaks they are. There's the whole F. Scott Fitzgerald thing. [Which, truth be told, is probably why I've willfully ignored them so long.]
But it's only now, while reading Calvin Tomkins' 1962 New Yorker profile on Gerald and Sara Murphy [thanks @maudnewton!] that I've taken a first, real look at Gerald Murphy's paintings.
Well, that, and the fact that MoMA actually has their Murphy, Wasp and Pear, on view for the first time in years. It's certainly the first time I've ever remembered seeing it.
The Murphys fled their uptight, US, 1920s socialite life for France, where they proceeded to invent some combination of summer, the Riviera, and modernism. Under the initial tutelage of Diaghilev designer Nina Goncharova, Gerald took up painting alongside his friends Picasso, Braque, Man Ray, Picabia, and Leger. He stuck with it for seven intense years, then abandoned it completely when his son came down with tuberculosis. Tomkins quotes him as saying that discussions with Picasso led him to realize "I was not going to be first rate, and I couldn't stand second-rate painting."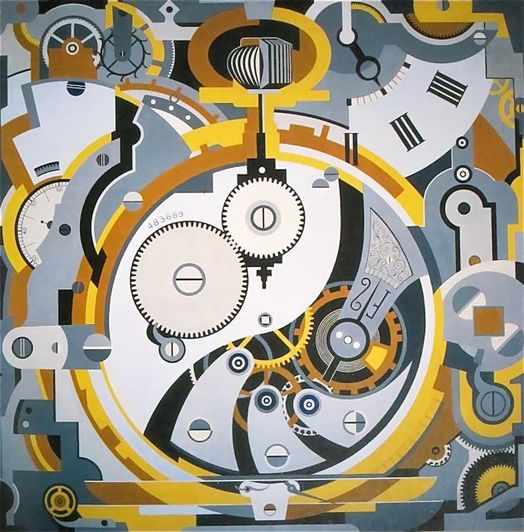 Which, wow, just does not make sense. It sounds like ex post facto rationalization, or dealing with grief over his son's death, or something but it completely ignores the fact that Picasso himself was often second-rate. I think you just never know until you do. And maybe Murphy did, and knew, but still.
The few paintings that survive [8?] of the few he made [14?] are all pretty great. The Dallas Museum has several, including Watch (1925), an amazing precisionist abstraction that measures an awe-inspiring 6x6 feet. No Sunday painting there.
I'm waiting for the catalogue from the DMA's 2008 ominously subtitled show, Making It New: The Art and Style of Gerald and Sara Murphy. Which better have photos of Villa America, the Murphys' pioneering modernist-ized outpost in Cap d'Antibes referred to in my favorite extant Murphy painting [top].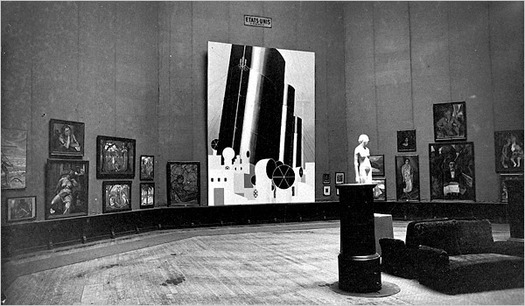 And which also better have more info and more photos of what is now my favorite missing Murphy, Boatdeck: Cunarder, an 18x12-ft masterpiece which took over nearly the entire American section of the 1924 Salon des Independants. Seriously, what Modern was painting 18 feet high in 1923? That is just nuts.
[update: MacAgy originally had Cunarder in the title, and the painting was originally reported to be based on the Aquitania, but Rubin says Murphy said it was the Olympic and the Paris]