OOPS! Never mind!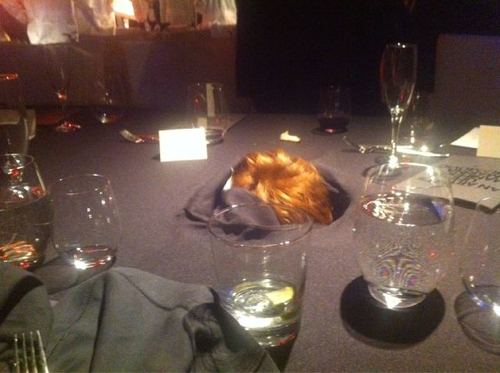 In my dead-serious indignation, I had completely overlooked the potential of Marina Abramovic's MoCA Gala for pathetic comedy. Fortunately, we have Ryan Trecartin, who speaks diva absurdity fluently. Trecartin's livetweeted photo report from inside the tent is hilarious.
First, of course, the page of "INSTRUCTIONS FOR BEHAVIOR WITH THE CENTERPIECE," which, yes, but. The second you read the instructions, you know the piece has already failed, or has at least missed an opportunity.
In 1974, Abramovic executed a piece called Rhythm 0, in which she sat completely impassive next to a table full of objects, including a gun and a knife. A sign informed the audience they could use anything they wanted on the artist's body. It got kind of aggressive, and contested, and Marina says later she "felt really violated." Surely the norms of gala culture would have tempered any actual violence, but would it not have been more illuminating to not tell the gala crowd to behave with basic human decency toward the human performer--and then see what happens?
But that's not what was on the menu for this piece. Oh, the menu. "THE SURVIVAL MOCA DINNER" featured "Super Human Cocktails: Purity MoCA Martini, The Minimalist, The Conceptualist" and "John Cage Symphony," which was a frisee salad with crostini and a fruit-nut loaf. Rauschenberg, de Kooning and Warhol were the other artists with courses named after them. I have no idea.
Holy moley, what is this extraordinary thing where people chant Marina's artist manifesto at the audience? And Debbie Harry gets carried out by four Hollister doormen? A runway-like stage seems to be a trademark of the MoCA gala medium. Vezzoli had it. Aitken had it. Now Marina had it.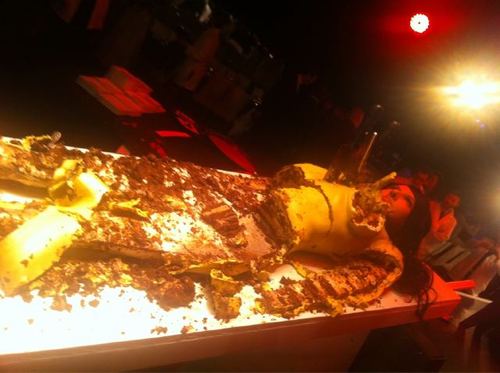 As Marina says, you can't judge a work unless you've experienced it. Fortunately, Trecartin and his intrepid entourage stayed until after the bitter end, after the body part cakes in the form of Miss Thang and Ms. Harry were reduced to roadkill, and they investigated the underside of the table and then popped their own heads up. This is close looking and arts journalism, right here folks.
And in the service of art. For then our man in Los Angeles headed [sic] back to his hotel room with the greatest gift bags imaginable, containing kits to make centerpieces at home. So. Awesome.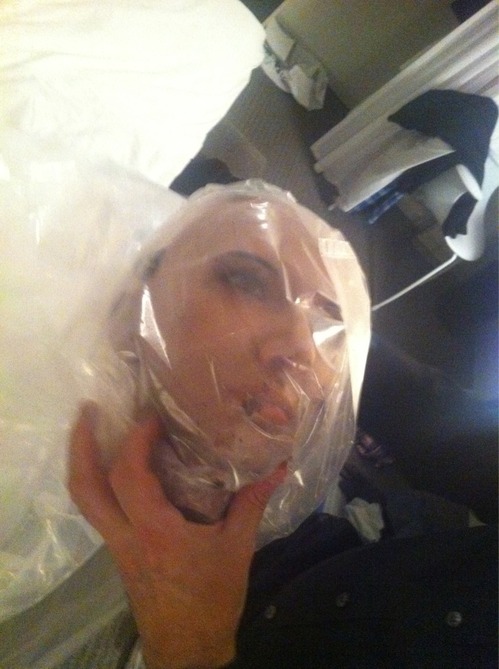 Off with their heads!

All images via Ryan Trecartin's Twitter