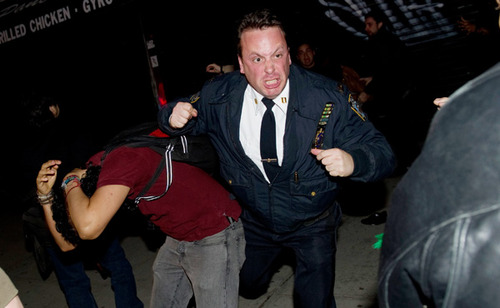 Gotta hand it to the Bloomberg Administration: scheduling the expulsion of the Occupy Wall Street protesters for the middle of the night, and then arresting and beating and harassing journalists covering the raid, thereby minimizing--but apparently not eliminating entirely--the creation of images of white-shirt violence like the one above by Agence France Presse, was slick.
But then scheduling the cleaning performance at Zuccotti Park for sunrise, when the dawn's early light hits the golden trees just so, and the Times' photographer can get an NYPD relaxing against a barricade just so? That is pure political poetry.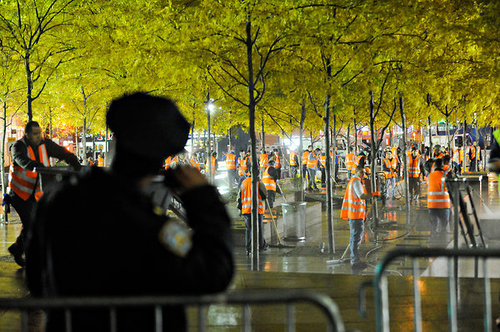 It reminds me of Mierle Laderman Ukeles, longtime artist-in-residence for the Department of Sanitation, who identified the political and aesthetic power of maintenance when she asked, in her Manifesto for Maintenance Art 1969! [pdf via feldmangallery.com], "After the revolution, who's going to pick up the garbage on Monday morning?"
Unfortunately, I think this is the opposite answer Ukeles was seeking.