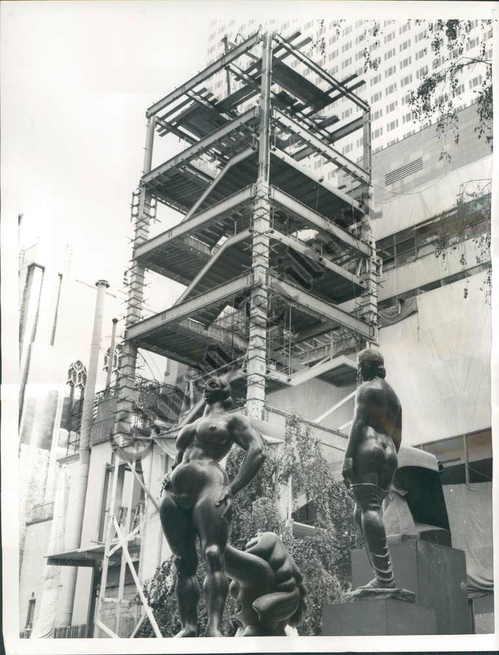 You'd think I'd learn the importance of clearing browser tabs by now. I've had this eBay listing open for a couple of weeks now, thinking I'd buy it. And then last night I decided to pull the trigger. And then to just do it in the morning. And it was gone.
It's a rather awesome press photo from September 1958 of a temporary staircase erected in the Museum of Modern Art's Sculpture Garden after the fire that destroyed a couple of Monet's Water Lilies paintings.
The Tribune Company was selling the print, liquidating the photo morgues of various of its venerable newspapers at $15 a pop, while stamping its watermark across the digital version "to deter image theft [sic]." Mhmm.
This kind of provisory structure, something more than a scaffold but less than an actual building, is awesome to me. It's a type of architecture that doesn't often get documented, much less studied, and almost never preserved. The related exception, though, are 19th century Army-issue observation towers at Gettysburg, but even those seem to have been designed, not just built.
Previously: MoMA on Fire