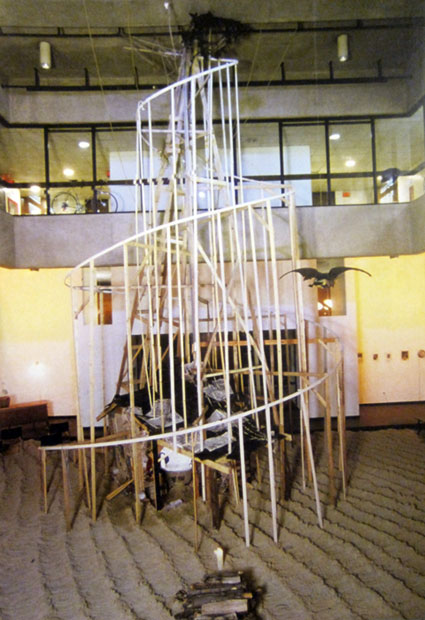 Paul Thek's birthday was last week, so I probably should have posted this photo of his re-creation of Tatlin's Monument to the Third International then.
Thek installed this version of his Tower of Babel at his only US museum show in his lifetime, at the ICA Philadelphia in 1977. That's Uncle Tom's Cabin and a bathtub full of water inside it there.
Whatever points it loses for verisimilitude Thek's Tatlin's Monument makes up for being ahead of the game. The only widely known Tatlin replica at the time in the West was Pontus Hulten's first version, built in 1968 for the Moderna Museet [where Thek had a show in 1971.] Hulten had made that one with T.M. Shapiro, Tatlin's collaborator in the "Creative Collective." Then in 1975, Shapiro went on to make another, more accurate version himself in Moscow, after gaining access to more original notes and documentation.
But then, I don't get the sense that historical accuracy was ever Thek's goal.
Previously: On The 2nd Through 8th Tatlin's Monuments To The Third International
John Pearrault's 2010 look back at Thek's work and non-career