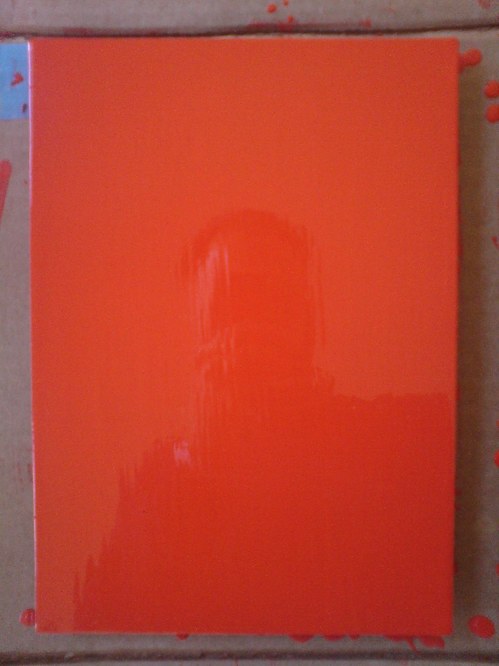 Theoretically, I can get the prep and sanding and tacking and painting of a new coat, and the cleanup, and a bit of documentation, done in a little over an hour now. But I also find it takes a certain kind of hour.
And anyway, I wanted to switch to a roller, and so I went looking at neighborhood hardware stores, to no avail. I explained to one ACE manager what I needed: a roller for laying down smooth oil enamel on steel panel. Yes, it's primed. No, it's just a panel. No, can't spray; it's custom mixed in a can. Monochr-- Just the one color. Not going to paint anything on top of it. He finally said, "It sounds like art." Well, that remains to be seen. Right now, it's just a painting.
Well, yes and no. It's taken me several coats or sessions to realize that I've been handling these panels very carefully, like art--but like someone else's art. Art I've bought and need to take care of. I think I'm over that. They need to be made before they need to be conserved.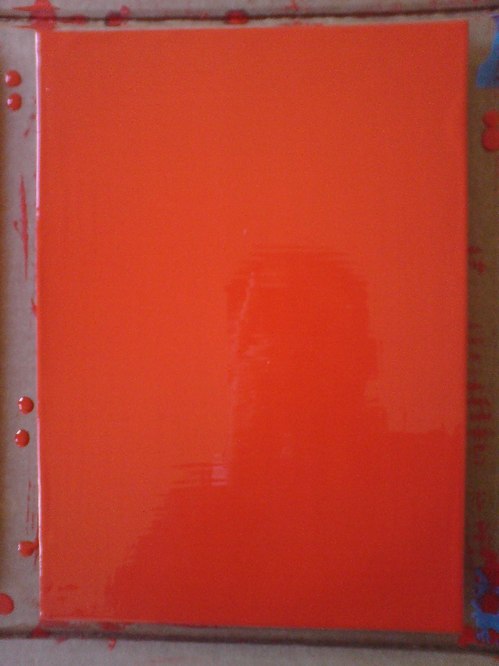 And now that I'm handling them a lot more, and less hesitantly, I'm finding I like the feel of the steel panel [top] better than the aluminum [above]. At least at this gauge, the aluminum is just too light and flimsy. And since I don't want the metal to have an edge profile of its own, I'm wary of moving up to a thicker gauge.
The sponge brush, well, I'm not sure I'm for it. It does produce a much finer striation than the natural brush I've used till now. What I think is that for these layers I know I'm going to sand, it's not as important. I am interested, though, in how the brush strokes differ, horizontally and vertically, or portrait and landscape [sic or heh, I'm not sure which]. If I can't get rid of it entirely, I may keep that somehow.
[Note: I missed posting an update #4, but it was sanding, and then cutting the drip/stalactites off, rather than wait any longer for them to dry, which they'd never really do, and then you'd sand across one, and it'd break and shmear like a rood zit.]