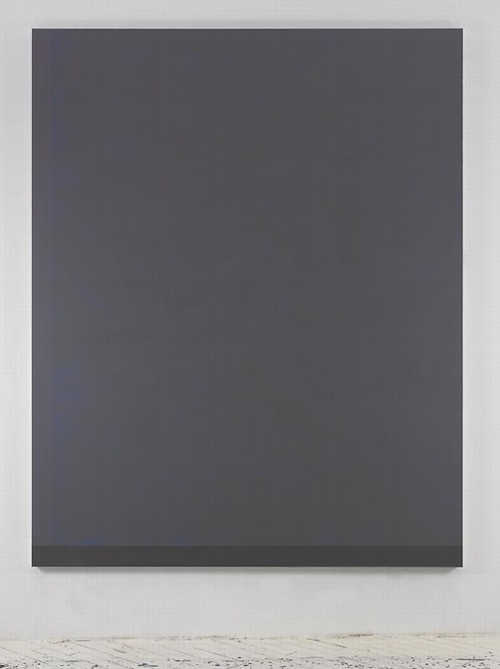 Byron Kim, Untitled (for S.B.), image via jamescohan.com
Byron Kim's first show at James Cohan consists of large, nearly monochromatic paintings of the night sky in Brooklyn. Or perhaps they're of memories of the night sky in Brooklyn, or evocations or references to specific phenomena of the night sky in a city. From the press release:
In this new series of work, Kim paints night in the city, evoking the quality of light and hazy cloud formations in the transition from dusk to dark and beyond. He depicts the state of constant suspension that city dwellers experience; the omnipresent lights block their view into the cosmos and deny a resolution to the day that true darkness delivers. The paintings in this ongoing series, measuring 90 x 72 inches, often have hard-edged, painted borders on two or three sides that act as reminders of the architectural elements like windows, cornices and facades of buildings that frame our views of the city sky. Kim paints his crepuscular skies from memory, creating open spaces that act as trigger points for the viewer's inner dialogue, giving the imagination room to resonate and remember.
Art in America's Faye Hirsch talks with Kim about the work, which is somewhat related to his ongoing
Sunday Painting
series, quick renditions of the daytime sky, which are much more representational [or maybe not? Some of those
Dark
paintings seem very atmospheric, and the borders do feel like architecture.] And they all kind of remind me of the varied blues of Donald Moffett's monochrome photographs of the sky, which always felt very poetic to me, and which were always framed and matted in strong white so they looked like windows. Which all makes me wonder if the other unmentioned reference here is James Turrell's PS1 piece.
Byron Kim, Nov 4 - Dec 17, 2011 [jamescohan.com]
Night Rider: Q&A with Byron Kim [artinamerica.com]
previously: what I looked at today: NGA monochromes, [including Byron Kim]