Another Sunday painting. Or another Sunday spent painting.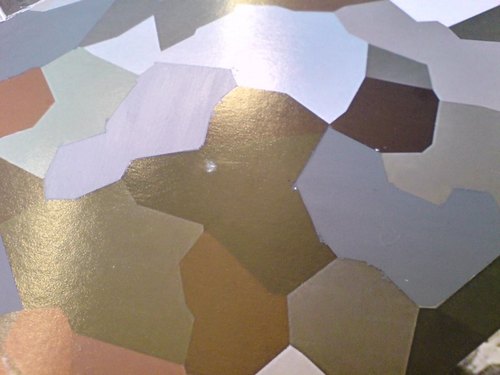 I did another round of taping off and painting on the Dutch Camo Landscape photo of Noordwijk today. The first time, I did two identical gray polygons This time, I did three, with different greys.
The taping is the most time-consuming aspect of the process, the mixing the most uncertain, and the painting itself the most anti-climactic.
Not really knowing anything about color systems or theory, I'm just eyeballing each match. At the moment, there's something going on, I think, with the way the polys get grouped; I mix one grey, then change it for the next, and then the next. They end up being sequential in a way, related to each other, composed of the same constituent pigments. Until they're not; the last poly was turning out to be not just lighter, but pinker, redder, and so I gambled and added a new paint, a single drop of red oxide, which blew the whole thing. It eventually came around, though.
Though I'm clearly counting on it somehow, I don't know what'll happen when I try to paint next to an already-painted polygon. I mean, on the one hand, I don't know how paint will handle the tape. On the other, there's a ridge there now. So I could just paint up to it. But that'd mean some edges will be taped and crisp, and others will be brushed.
At this point, I guess I'm still seeing if paint actually does what I think it'll do when I do it.
In unrelated news, that brown poly in the center of the photo looks kind of like Iraq.