Ausgezeichnet!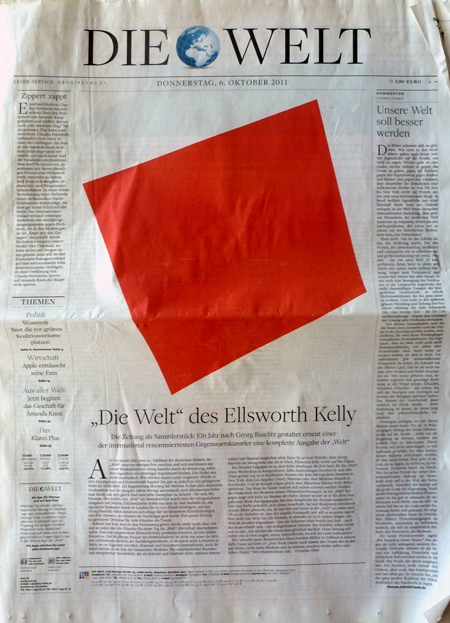 To promote his two shows in Munich this fall/winter, at the Pinakothek and the Haus der Kunst [which closed this week, btw], the local paper die Welt published a special issue in which all photos were replaced by Ellsworth Kelly paintings. Cereal Records points to Burning Settlers Cabin, whoprocured a copy, which makes me all the more determined to track one down myself.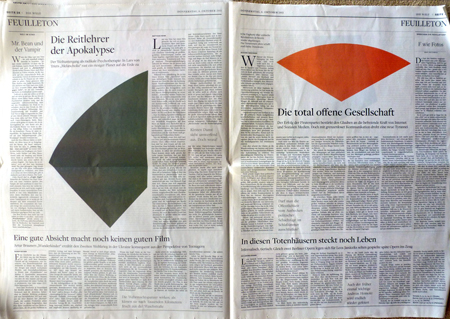 Unfortunately, all I can find on the Welt website is an offer for a facsimile edition of the front page [top], printed on archival paper in an edition of 100. I mean, it's signed, but I'm not sure that this works quite as well as a print as the newspaper does as an awesome object.
Any German-reading newspaper hoarders out there, please get in touch.
Great story: Just Say No To Safe [burningsettlerscabin via cerealrecords]
Die Welt's all-Ellsworth Kelly issue [cerealrecords]
Limitiert und handsigniert: die Kelly-Edition zur Zeitung, 499 Euro zuzüglich versicherten Versands [welt.de]
Previously, and definitely related: Ellsworth Kelly on Ground Zero
Previously, related, and not as awesome: Robert Rauschenberg's Piece of Tropic, 1979, ed. 650,000