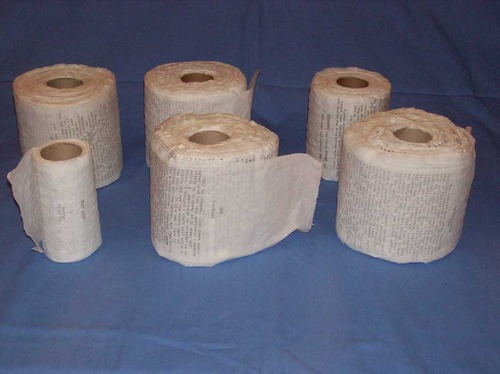 There is much to do, and much to write, but it'll have to wait. Because right this minute, a copy of Moby Dick typed on six rolls of toilet paper is for sale on eBay:
MY FRIEND AND I ONCE JOKED THAT TOILET PAPER SHOULD HAVE INSTRUCTIONS PRINTED ON THEM FOR CERTAIN PEOPLE
ONE DAY, THE CONVERSATION GREW FROM THERE AND TURNED INTO A WAGER THAT I COULDN'T (OR WOULDN'T) BE ABLE TO TYPE OUT A NOVEL ON TOILET PAPER.

YES, WE DID HAVE SOME TIME ON OUR HANDS BUT, AS YOU CAN SEE BY THE FOLLOWING PHOTOS, I WON THE BET.

THERE ARE FOUR FULL ROLLS, ONE ROLL (EPILOGUE) IS ABOUT 1/5 OF A ROLL AND ONE HALF-ROLL
ALL OF THE ROLLS OF TP CAME OUT OF A BRAND NEW -- CLEAN -- PACKAGE OF 2-PLY COTTONELLE
THEY'VE BEEN HANDLED VERY GINGERLY AND INFREQUENTLY

AS YOU'LL SEE IN THE FOLLOWING PHOTOS, ONE OR TWO ROLLS HAVE A TEAR AT THE BEGINNING
THIS IS WHERE I WAS TRYING TO PULL THE PAPER THROUGH THE TYPEWRITER

I'VE KEPT THIS MOD ODDITY IN A BOX IN A COOL, DRY PLACE FOR THE LAST 10 YEARS
AND HAVE ONLY BROKEN IT OUT TO PROVE TO DOUBTERS THAT I ACTUALLY DID IT

CONSIDERING WHAT IT'S BEEN THROUGH, IT'S IN AMAZING CONDITION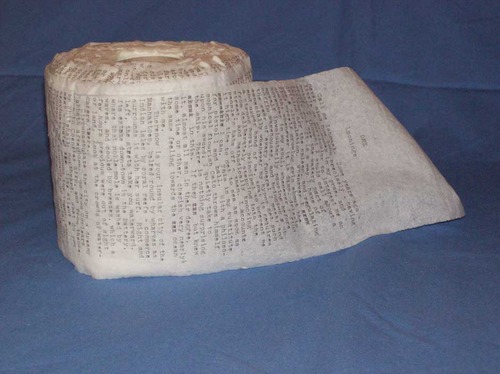 I mean, there's so much we still don't know. Like who did it? In this day of Facebook non-privacy, how can an artist be known simply as The Toilet Paper Moby Dick Master? And how long did it take? Wait, before that, even, what, really, was this conversation that led to this bet? And how did the bet end up involving one of the longer novels in the canon? Why not something shorter? Something like On The Road?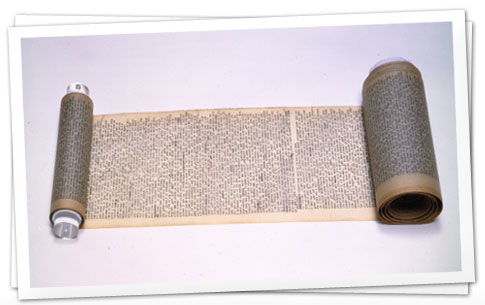 Moby Dick typed on toilet paper, opening bid, $399.95 plus free shipping, auction ends Jan. 29 [ebay via @cthon1c]
Kerouac Scroll Tour [ontheroad.org]
UPDATE: since posting this, the opening bid has been raised, appropriately, to $999.95.
UPDATE UPDATE: or one like it. "The seller has relistedthis item or one like it."
PRICELESS UPDATE: On the one hand, especially if I were the one who had typed it, and protected it in a shoebox all these years, I would KNOW KNOW that $320 is a ridiculous insult of a result. How dare eBay? On the other hand, there were four bidders on this thing, so, not entirely unnoticed. The Master Of The Typed On Toilet Paper Moby Dick needs to keep it and turn it into a family heirloom, or he needs to let it go, and let the world--and specifically, the knucklehead(s) contemplating spending several hundred dollars for it--take care of it.