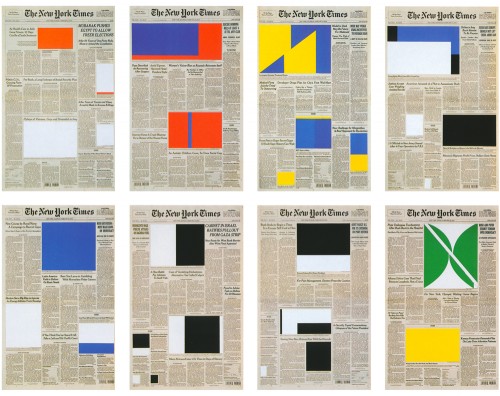 Marine Hugonnier, Art for Modern Architecture (Homage to Ellsworth Kelly), The New York Times (Week of February 21st to February 27th 2005)
Now this gets very interesting very quickly. Jason, a sharp-eyed greg.org reader in Paris, just sent along a link to a recent post on We Find Wildness about the very interesting work of Marine Hugonnier:
Art for Modern Architecture (2004-ongoing) investigates the role of the image, its abilities and its limitations and reverses the process by obstructing the press images on the front page of a week's worth of newspapers (the series include The New York Times, The Times, Die Tageszeitung, Le Monde, The Herald Tribune, The Neue Zürcher Zeitung and Al Ayaam) with collages made of cutouts from ELLSWORTH KELLY's book Line Form Color.

ELLSWORTH KELLY claimed that art was to be made for public spaces and buildings, thus establishing the modernist utilitarian project of art serving modern architecture. This project renews KELLY'S ideas and re-elaborates them within another medium, that of a newspaper, the 'architecture' of which frames everyday life.
Hugonnier's series is not an unknown quantity by any means.
Her 2007 Kellyfication of The Times of London, for instance, was acquired by MoMA in 2008.
If Cornelius Tittel, the Welt's culture editor responsible for the newspaper's special all-Kelly edition somehow did not know of Hugonnier's work, which is one of the more prominent contemporary examples of art that directly deals with newspapers as media, Kelly and/or his crew certainly knew. I would chalk this one up as a great idea that positively demanded to be realized.
FREAKY HUGONNIER-IN-THE-AIR UPDATE I just caught up with it now, but Ro/Lu also posted about Hugonnier's Art for Modern Architecture series, including some gorgeous images of her more recent pieces, where she uses her own abstract cut-outs. Great minds &c., &c.!
Previously, and still definitely related, also, from 2003, so really, who even knows what kind of amazing material the guy's got squirreled away? Ellsworth Kelly on Ground Zero