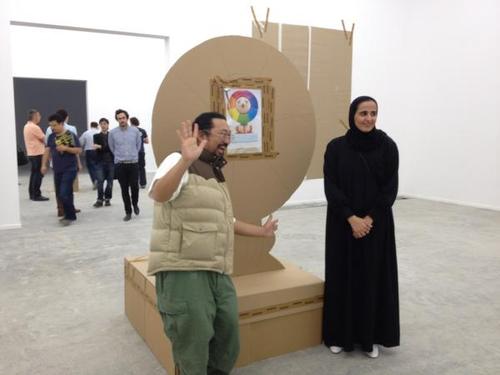 "@takashipom #EGO Takashi with H.E Sheikha Al-Mayassa bint Hamad bin Khalifa Al-Thani" via @QatarMuseumsAut
I am in awe of the new, Povera-meets-Lars von Trier direction Takashi Murakami is taking his work. It's like pure signifier now. A master's bravura gesture. A late de Kooning brushstroke. A wax Degas dancer body fragment. A spray bottle-in-the-sun Olafur rainbow.
Of course, making a grand destination exhibition entirely out of cardboard and backdrop paper gestures is only possible because our visual memories have already been stuffed full of so much of the same high-production, branded, manically kawaii, visual overload cruft for so. many. years now.
I swear, I'm not angling for a junket when I say that the Qatar Museum Authority's bold self-criticality and curatorial acumen is a groundbreaking model other world-class art institutions ignore at their own peril.