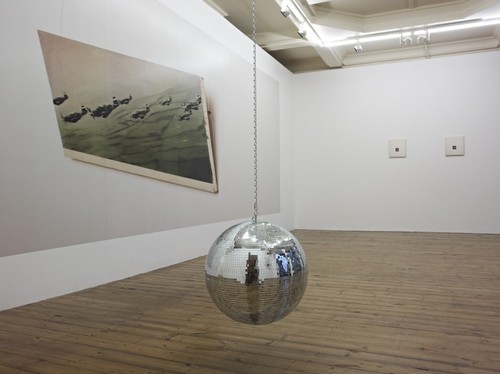 It was a favorite in the Met's Pictures Generation show. And I liked her recent, similar show at Metro Pictures. But hey-ho, how awesome does Louise Lawler's show at Sprüth Magers look??
I mean, I might have been content to stop at the enlarged-to-fit, distorted vinyl mural of the oblique view of Gerhard Richter's Staffel. But not Lawler.
From now on, I think the question demanded of any installation should be, "Why are you taking the giant disco ball out?"
No Drones, Louise Lawler, at Sprüth Magers in London through Dec. 23, 2011 [contemporaryartdaily.com, thanks andy]
Sprueth Magers London [spruethmagers.com]
Previously: last days of disco balls
Part disintegrating Deathstar, part disco ball