Got posts stacked up like flights at LaGuardia, but I can't get past these paintings by Douglas Gordon [right?] coming up at Christie's London sale next week.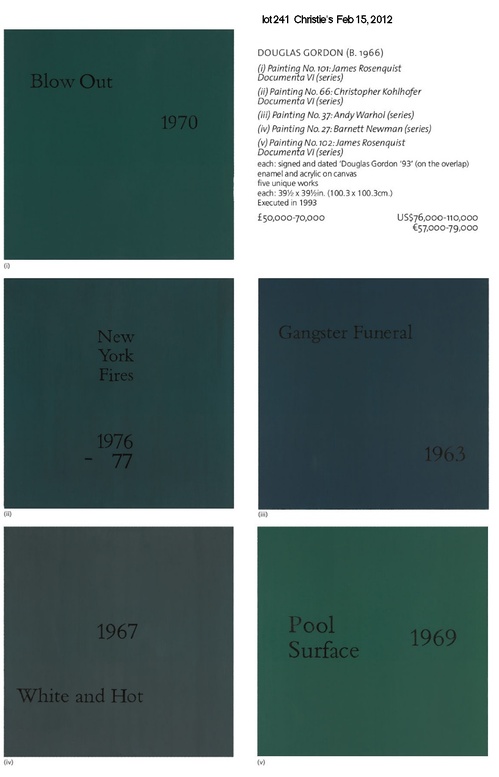 They're 1-m square monochromes of acrylic housepaint with a text and date that's a reference to a work by another artist. Gordon did these particular paintings around 1993, the same time he was working on his awesome, breakthrough film installation, 24 Hour Psycho. Which, in retrospect, makes it a tough year for a Douglas painting to get much attention. But yet they kind of nagged at me.
And then as I found one of the only discussions of Gordon's paintings, in a 1993 interview with Thomas Lawson for Frieze, it sounded slightly familiar. But of course, I'd not noticed it much, if at all, at the time. Here's part of that discussion, which segues so nicely from the one project to the other:
DG: The idea is that these paintings, the way I imagine them, do have a 'transcendental' aspect, although I hate that word. Part of the background here is the whole range of 'endgame' painting theories, you know, like the Peter Halley/Sigmar Polke/Gerhard Richter positions, and also the Last Exit stuff that you wrote. These 'thinking' painters were important to me, partly because of the whole fuss about 'Glasgow Painting' in the 80s.

The paintings that you have seen have come about as a result of the attitudes and strategies that I had developed through working outside of a studio; you become steeped in a research, which isn't based on physical materials.

I was in a show in New York a while ago, and it turned out that the space was the old Betty Parsons Gallery. So I did some research on the place and started making lists of the paintings that had hung on those walls during the 40s and 50s. I ended up making a series of paintings that related directly to these works by people like Ad Reinhardt and Ellsworth Kelly. But although this series came out of a response to a situation, the thing about painting in general is that it satisfies a desire to make work free of a specific context.

TL: I think I'm hearing you admit that you actually make paintings on spec, just like a studio painter would?

DG: Yes. You've found me out. But my premise is to take the field of painting as a context in itself - you know, you say the word 'painting' and hundreds of expectations or prejudices come to mind. It's obvious that my interest in painting is not so much in the practical, physical side, as in the idea of it.

I'm interested in the fine line between my intentions and the perceptions of others; that moment when someone encounters something and realises that there is more to it than meets the eye. I'm interested in the moment when someone opens the letter, recognises that it is for them, and starts to wonder why they got it, and what it really means. The same can happen with these paintings: someone sees the piece that uses the title of a Baldessari book and thinks, well, yes Brutus did kill Caesar. But in 1976? And isn't this the title of another artwork, by someone else, somewhere else, and so on? I would say that all of the work plays with recognition and expectation in this way.

TL: Is there a particular pay-off with the paintings if you crack the code, or is it enough to know generally that these texts refer to works by other artists not on show here? Is it enough to know that there is a clue, without needing to know what the clue is?

DG: I don't think there's a particular pay-off. People who don't recognize the text as a title to a specific piece of art can still have a certain intrigue to play with. If you didn't know that Slow Motion 1969 refers to a piece by Robert Morris, I think you can still find something that will resonate. Maybe people who aren't trapped in an art history background can find more.

TL: Do you fetishise your material? Are they well made stretchers, well prepared linen grounds, and all that?

DG: I don't make a big deal of production values. The paintings simply have to be clean and pragmatic so that there is nothing about them to distract from the ideas they contain. I use available materials and choose colour from a standard household paint chart. I just want the paintings to appear as neutral grounds, no drips, no spots.

TL: I don't know. By the time you get done they'll be agitated with blobs and cross hatches, and you'll be talking up a storm about expressivity.

DG: Probably. Working with shaped canvases, and everything. The paintings are an important project for me, alongside the other things. I'm interested in the 'big' media. All those traditions with too much baggage. For instance, I've been interested in film for a long time. I always wanted to make an epic as my first film - a real movie, not Super 8 or anything. I thought it might be interesting to take an existing film and re-make it. I wanted a picture with a story which was very familiar to a broad audience; so I started to work with Psycho. What I decided to do was alter the narrative of the original by making it 24 hours long, and without sound.
Sounds crazy, but it just might work!
Hello, It's Me! [frieze]
Feb 16, 2012, Lot 241: Douglas Gordon, five paintings, est. £50,000 - £70,000 [christies]