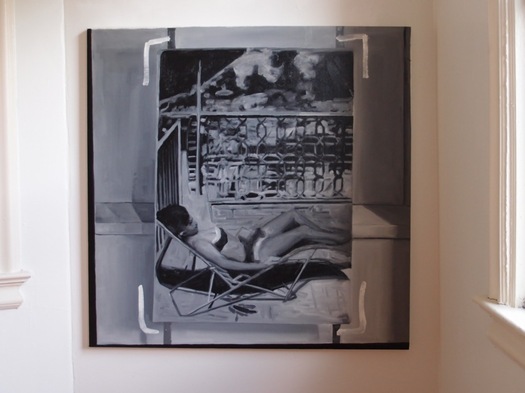 Destroyed Richter Painting No. 04, 2012, oil on canvas, 110x110cm
Postmasters is pleased to announce:

RICHTERIANA
GREG ALLEN, DAVID DIAO, RORY DONALDSON,
HASAN ELAHI, FABIAN MARCACCIO, RAFAËL ROZENDAAL

May 12 - June 16, 2012
opening reception, saturday, may 12, 6-8

Postmasters' new exhibition Richteriana attempts to examine the current canonization of Gerhard Richter, presenting six artists whose works pre-date, update, expand, and subvert "the greatest living artist's" own.

...[snip much amazing thinking and description of great artists and their work]...

Greg Allen's Destroyed Richter Paintings channel the elder artist's own private documentary images back into the photo- based painting feedback loop he once deemed "photography by other means." They reproduce the experience of encountering Richter's lost originals, while becoming new objects themselves. By engaging the sprawling Chinese photo-painting industry that has grown up in Richter's wake, Allen forefronts the market's incredulous perception of the artist's autonomy--and his right to declare or destroy his own work.
More to come, obviously.
Previously, related:
a destroyed Richter/Palermo collaboration
"I am practising photography by other means."
On repainting Gerhard Richter
Overpainted vs Destroyed Gerhard Richter