Oh, now that's interesting. I can't find an actual print copy of the Portable Gallery Bulletin anywhere, but Joel Finsel has scans of a couple of pages in Swimming Naked At The Y, his biography/oral history blog about Edward Meneeley.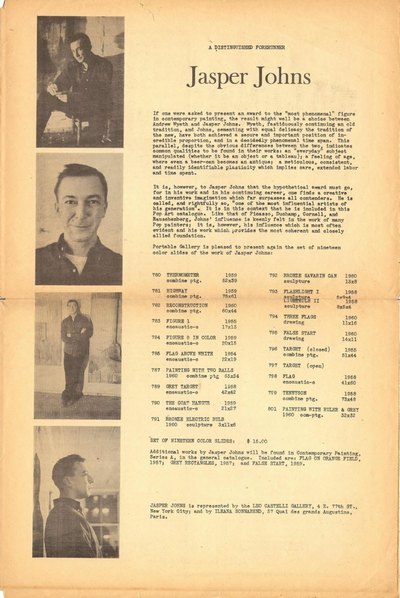 image composited from scans at Joel Finsel's Swimming Naked at the Y
One example: the Jasper Johns page from what they called "The World's First Pop Art Newspaper," but which is actually titled "The World's First Color Slide Catalogue of Pop Art." Given the Beatles reference, I gather it was published in early 1963, a full five years after Johns' groundbreaking solo show at Castelli, but before his Jewish Museum show. And after his bitter breakup with Rauschenberg, and after he'd written PGB a letter describing his and Bob's agreement to not show, sell, or publish images of Short Circuit:
Dear Sir,
I've always supposed that artists were allowed to paint however-whatever they pleased and to do whatever they please with their work--to or not to give, sell, lend, allow reproduction, rework, destroy, repair, or exhibit it...
That quote has stuck with me like glue ever since I read it, all through Cariou v. Prince, and right on through to Gerhard Richter's destroyed paintings. But more on all that later.
PGB's text is a little over-the-top, I'm afraid, not terribly meaty critically, but then, it was really designed to sell a box of color slides for $15. This was the collection from which Short Circuit was excluded. Or maybe it was the slides of Bob's work, who knows? Anyway, it didn't happen.
Point is, check out the works that were included: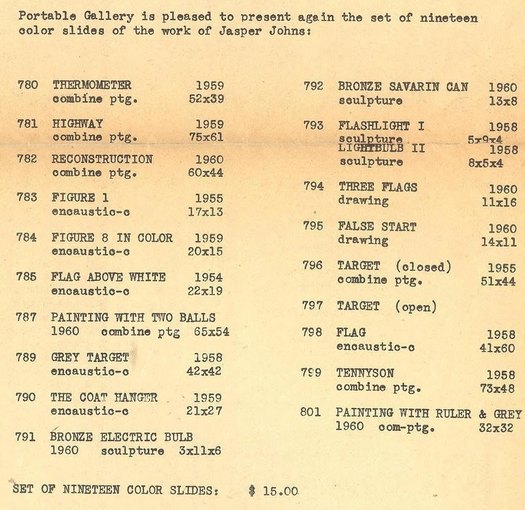 Thermometer (1959), Reconstruction (1960), Tennyson (1958), Painting with Ruler & Gray (1960), [below] and going all the way back to Target (1955), are labeled as "combine paintings."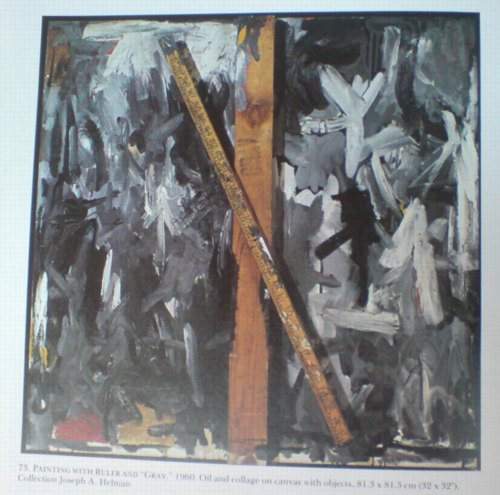 Painting with Ruler and Gray, 1960
But combine paintings are what Rauschenberg made. It reminds me of something in Calvin Tomkins' 2005 New Yorker profile of Rauschenberg:
Johns recently told Joachim Pissarro, a curator at MoMA, that he thought the term "combine" had been his suggestion. Pissarro asked him what he thought it meant, and Johns said, "It's painting playing the game of sculpture."

Rauschenberg doesn't recall that the word "combine" came from Johns.
I'm sure.
There's more that article, including Rauschenberg telling Tomkins that "the most important thing" he got from Johns was not the combine or, say, the title, crucial Wittgensteinian graphic element, and entire conceptual construct of Erased de Kooning Drawing, but "Courage. Persisting upstream."
But that's not the point, at least right now. It's just that an early stage in Johns' career, someone who knew him and Rauschenberg well was writing about his work using a term that is--or became--associated exclusively with the work of his former partner.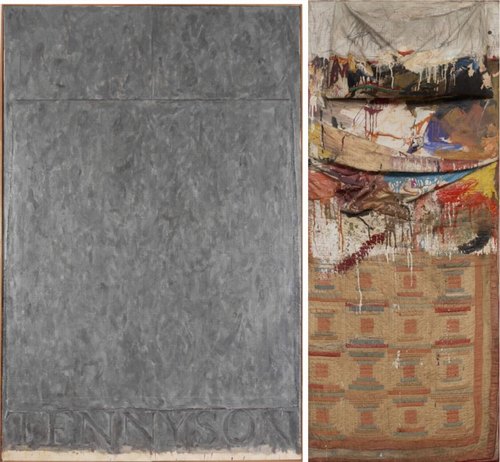 Tennyson, "encaustic and collage on canvas," and Bed, "Oil and pencil on pillow, quilt, and sheet on wood supports" [image, right: moma]
I've often thought that a lot of Johns's 50s and 60s works looked and felt like combines, but I've never seen the term applied. To take only a recent example, combines are only mentioned twice in the catalogue for the amazing 2007 show Jasper Johns Gray, both times by the Art Institute's James Rondeau and both only in reference to Rauschenberg's work. One was a "tender" and "unsupported" interpretation of the two-panel Tennyson as a double bed, "Johns's own, wildly restrained response to Rauschenberg's Bed, a landmark combine painting made two years earlier."
Bed is, famously, paint on an actual pillow, sheet and quilt, making references to both AbEx and Albers-style geometric abstraction. Tennyson, meanwhile, is two Bed-size canvases pushed together, with pillow-like shapes on top [Rondeau shows how these pillows are given volume and shape in Tennyson drawings] and another, separate canvas laid face down across them like a blanket. And all covered with gestural abstract brushstrokes.
These works don't have to be exactly the same, with handwritten footnotes on the back, to be seen as relating to each other, do they? Artworks made next to or around each other during the artists' most important, intense, insular, and productive relationship? How is it possible, or more precisely, why is it the case, that no one in 50 years has considered Johns' work as "combine paintings"? What would be different if we did?