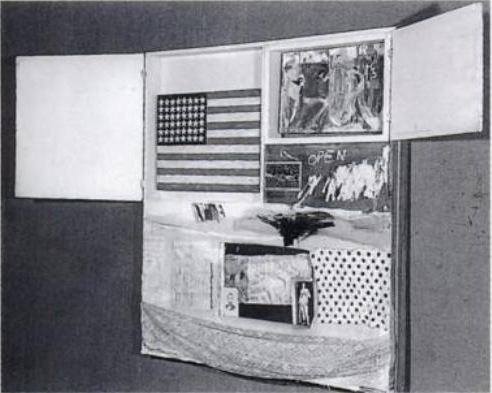 Well this is interesting. I don't know how I missed this before now, but Albert Vanderburg was the associate editor of Portable Gallery Bulletin whose 1962 article discussing the impact of Rauschenberg's inclusion of Johns' flag painting in Short Circuit prompted Johns to write in. According to Vandenburg's own recollection, that's not all it prompted:
We had behind-the-scenes access to many museums and galleries and came to know many artists we might otherwise never have met. It was often necessary to move paintings in order to properly light and photograph them and it was a touching experience sometimes to see the backs of famous canvases. Ed had the habit of photographing any interesting work he spotted in back rooms even though I sometimes grumbled over the shambles it made on the production end. The negatives were printed in reels the size of a motion picture, then cut frame-by-frame and mounted in cardboard holders, so a beautiful Picasso sandwiched in between Roy Lichtenstein and George Segal exhibitions didn't make for efficient processing, not to mention packaging and promotion which meant all those interesting individual items had to eventually be found a spot in the catalogue with suitable companions since we had long since given up selling individual slides.

One of those backroom items created another of my stormier sword-crossings with the Powers That Be. Before Jasper Johns appeared publicly on the scene, Robert Rauschenberg had created one of his "combine" sculptures which included a small all-white example of the American flag series which later helped make Johns a major star. Ed had managed to catch it before the work was withdrawn from public view. Not fully aware of the undercurrents, I wrote an article about the political influences in the New York art world and used that work as an example of ways more established artists lend a hand to up-and-coming ones. I had meant it admiringly but it was taken just the opposite, complicated by the fact that the special relationship between Rauschenberg and Johns had ended and had not yet emerged from a sour phase and perhaps even more so by the fact that the small Johns painting had itself become more valuable than the work as a whole. Their dealer, Leo Castelli, read my article, telephoned and told me I was a "beetch" and forbid us to sell the slide of the work. So when I designed the catalogue called "The World's First Pop Art Newspaper", the slide was offered as a free special bonus. Although Leo forgave Ed and continued to cooperate with future photography sessions, he never forgave me. I thought then he was a silly little man and I still think so while giving him due credit for the absolutely brilliant job he did in helping make Rauschenberg, Johns, Lichtenstein and others into the giants of twentieth century art which they later became.
Ha, yow, not often you hear Leo Castelli called a silly little man, but not often you hear him calling someone a "beetch," either. Good times. Also, it was not an all-white flag painting. Unless, of course, it was. The vintage photo I've been using [above] was taken by Rudy Burckhardt and dates from, I think, 1958. I didn't realize Meneeley and Vanderburg had their own shot, too. But maybe there's a Portable Gallery Bulletin slide floating around out there somewhere, and maybe it shows a white flag?
UPDATE: I can't find any copies of Portable Gallery Bulletin for sale or in archives, never mind "The World's First Pop Art Newspaper." But Joel Finsel's extensive bio/blog of Ed Meneeley has a photo of Ed's own, lone copy, from early 1963, probably the next issue after Johns' letter: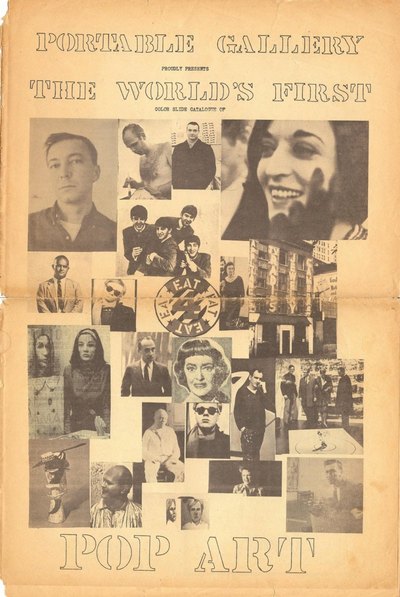 Hmm, Finsel also quotes the paper as offering "a free color slide of the Beatles!" which I guess one could get confused with Johns.
The Panther's Tale: 014b [pantherhawaii.com]