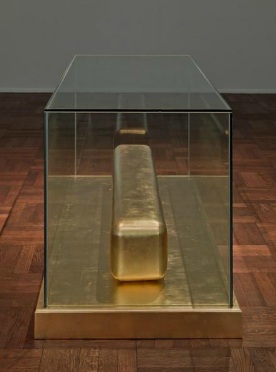 Monument to Cleopatra, 1988, currently on view at Michael Werner
I've been thinking a lot about James Lee Byars lately, for a whole variety of reasons. He's been problematic for me. I've always felt suspicious that his sculptures, all gold leaf and marble and monumentally deluxe, are not just decorative art, but decorator art [most excellent people, but you know what I mean.] And his camp and vanity, with all the lame´, read to me like the Zen Dali artist's version of the court jesterish, affectations decorators use to peddle their marked up wares. All of which makes the relentless pursuit of Perfection, Truth & Beauty seem a little, again, problematic. And though I obviously can't blame Byars for him, the ascendance of Terence Koh hasn't helped the case for monochrome life-as-art.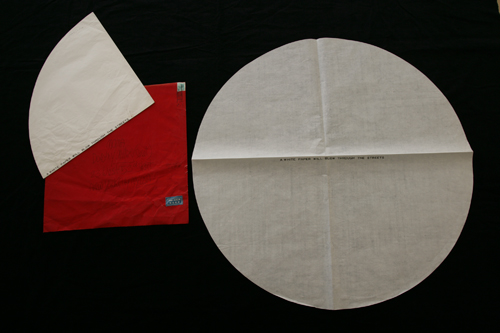 A letter/multiple dated Dec. 5, 1966, from James Lee Byars to Dorothy Miller, with text: "A white paper will blow through the streets." via MoMA Archives
But then I found out about all the wild letters. In 2007, MoMA Archivist Michelle Elligott put together a show of Byars' art object-based correspondence with longtime painting & sculpture curator Dorothy Miller, just one of the many people he corresponded with--or at least sent stuff to--over the decades. Which are obviously and unabashedly ridiculous and awesome at the same time, a simultaneous state I had never before considered for the rest of Byars' work.
And just yesterday, in fact, I think I figured out something else, related to another of the things that'd bugged me about Byars: his fantastical bullshitting. Like, to cite just one example, what was up with what Byars' official bio calls his "notorious 1958 exhibition in the stairwell of New York's Museum of Modern Art."
Roberta Smith wrote in Byars' 1997 Times obituary that Miller "arranged his New York debut, a show of folded-paper pieces displayed in an emergency stairwell of the museum for a few hours one afternoon."
And though the Museum's press archive has no record of it, Elligott mentions the "show" in the story of the 26-yo artist coldcalling from the front desk:
After seeing a work by Mark Rothko, Byars became determined to meet the artist, and in 1958 he hitchhiked from Detroit to New York and presented himself at The Museum of Modern Art, requesting an introduction. Miller was called down to meet with him. Legendarily, that same year Byars had his first exhibition at a U.S. museum, when Miller allowed him to briefly install his large works on paper in the Museum's emergency exit stairwell. From this point forward, Byars considered Miller an important mentor and turned to her repeatedly for support.
That "Legendarily" is exactly the buggin' I'm talking about. Elligott notes a stairwell mention in a 1967 Byars letter as "likely a reference to a show he allegedly mounted in a Museum stairwell in 1958." And Elligott expanded on her skepticism of the stairwell "show"
in a 2008 interview
:
I think the stairwell exhibit story is somewhat unlikely, and that it is quite probable that Byars propagated this legend after some sort of small incident. Regardless of what happened, I do believe that Byars aggrandized the event, much as he continually cultivated his larger-than-life personality.
Which is better. I mean, artists, they're gonna do what they do, but I don't want my museums to be lying to me, or to be just going along with the hype.
Which brings me to yesterday, when I finally cracked open the little catalogue from Byars' 1995 Fondation Cartier show. And read psychoanalyst/critic/PS1 adjunct curator Jean-Michel Ribettes, seeming to swallow Byars' story whole by just cold referring to it as "his first show in an American museum--the Museum of Modern Art in New York." But then, finally, Ribettes has some more details, presumably heard from the artist himself:
Byars's enormous works in ink on Japan paper were hung on the five-storey fire escape. The curator, Dorothy Miller, not only agreed that the show would last just a few hours, but she and other collectors (like architect Philip Johnson and David Hayes) purchased all the pieces, which Byars himself delivered to their houses that very night, crisscrossing New York into the early hours of the morning.
So it's less of a "show" and more of a "sale."
And this appropriated but unsourced Byars bio
says Miller bought "two paper works and allows him an exhibition lasting a few hours." And how's
this for five-storey fire escape? At MoMA in 1958?
Which would've gone right up against the P&S department's window?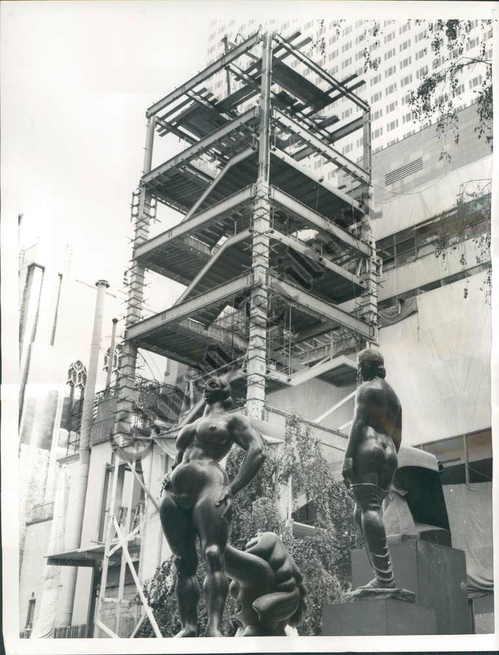 And here is a tall [1.8m], if not enormous, work on Japanese paper, dated 1959, which Philip Johnson gave to NYU in 1969. It was included along with several related, smaller, ink drawings, in the Grey's "NY Cool" show of abstract non-expressionism.

So we have a charismatic, young hitchhiker calling from the lobby, and probably dropping names of his Japanese mentors, folks like Morris Graves and Soetsu Yanagi, and asking to talk to Rothko. And when you bring him upstairs, he unrolls some of his drawings, which, hello, he's a 26yo hitchhiker, are probably pretty cheap. And maybe PJ and Hayes passed by and went in for a drawing, too. From the Zen monk who'd set up shop and was now meditating on the fire escape outside Dorothy's window. Now I am OK with this. But I would not call it an exhibition.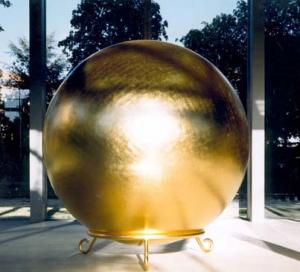 Which is all good, because what Byars showed at the Cartier Foundation was The Monument To Language a 3-meter wide gold-leafed bronze sphere. And you know how I am about big, superlatively beautiful, shiny balls.
2007: James Lee Byars: The Art of Writing [moma.org]