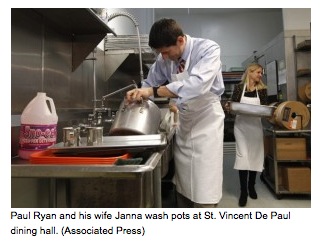 From the Washington Post report, "Charity president unhappy about Paul Ryan soup kitchen 'photo op'":
He added: "The photo-op they did wasn't even accurate. He did nothing. He just came in here to get his picture taken at the dining hall."

Ryan had stopped by the soup kitchen for about 15 minutes on his way to the airport after his Saturday morning town hall in Youngstown. By the time he arrived, the food had already been served, the patrons had left, and the hall had been cleaned.

Upon entering the soup kitchen, Ryan, his wife and three young children greeted and thanked several volunteers, then donned white aprons and offered to clean some dishes. Photographers snapped photos and TV cameras shot footage of Ryan and his family washing pots and pans that did not appear to be dirty.
Verily he hath his reward.