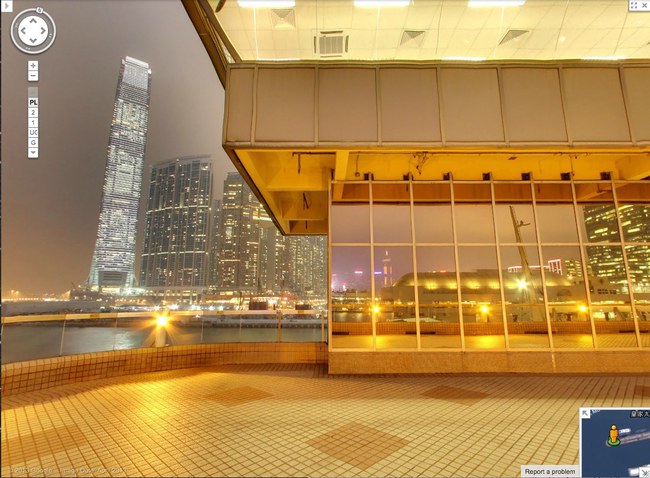 Yesterday @MattBucher noticed this uncommon night-time imagery on Google Street View of Victoria Harbour in Hong Kong. It's the promenade on top of the China Ferry Terminal, on the west side of Tsim Sha Tsui in Kowloon.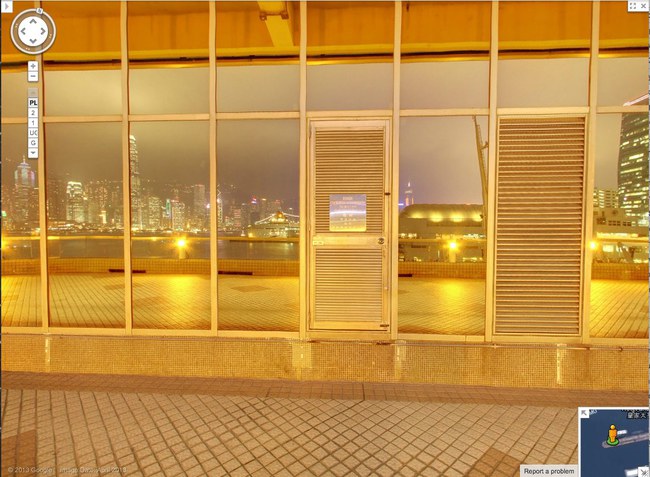 As I do, I immediately began looking for Street View's evidence of itself: the distortions where panoramas are stitched together, and the traces of the photographers who make it. It's information Google is apparently just as interested in eliminating. The promenade includes three mirrored buildings, but every pano is perfectly sited to exclude the Google cameraman. Whether selfies are considered distracting, extraneous, or just undesirable, Google is trying not to photobomb itself.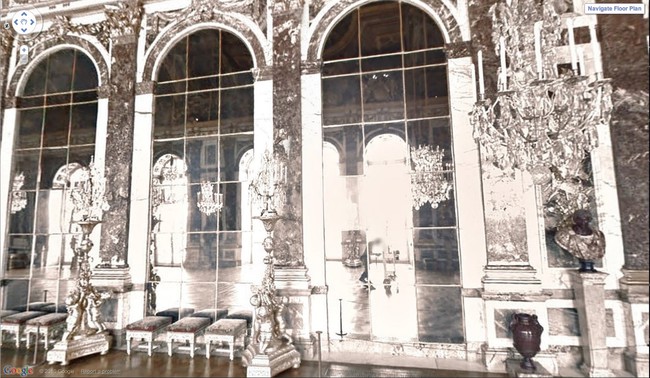 At least not anymore. Remember back in 2011 when the Google Art Project launched, and we got a little glimpse of the camera operator pushing his cart carefully through the Hall of Mirrors at Versailles? That feature has been eliminated.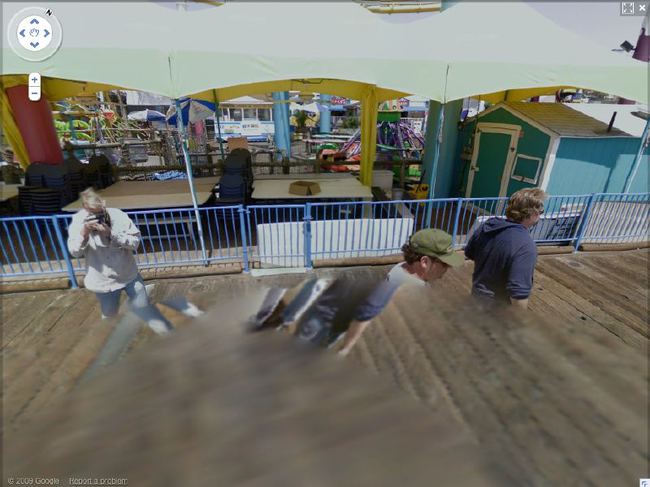 And when Google Trike was first tested four years ago on the Santa Monica Pier, its handlers not only appeared on camera repeatedly [including one pano, since removed, where they posed as civilians and flashed the peace sign], it also attracted attention.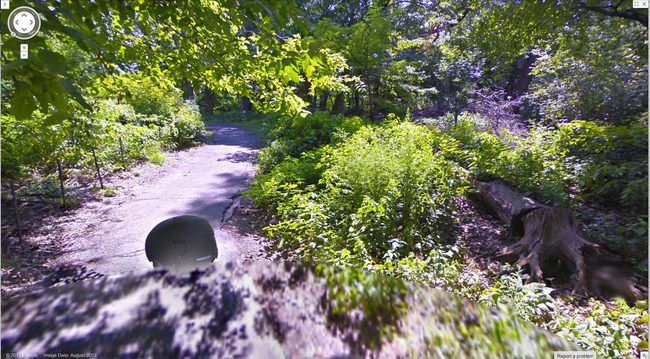 As recently as last summer, this was still the case. Here are some screencaps from a Google Trike expedition in Central Park, which someone linked to just last week. [here's an Engadget story.] I couldn't see any evidence of an attendant, like the guy I dubbed Walking Man, who appeared in almost every pano of the Google Trike's first European outing, scanning the Binnenhof, the Dutch Parliament, in the Summer of 2009. But there were the occasional shots of the back of the Trike driver's head.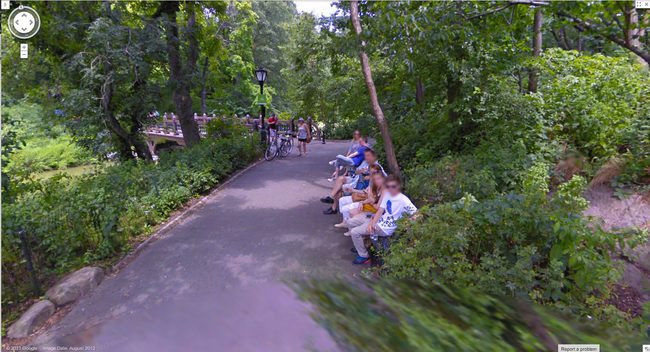 I love this sequence, partly because it's an actual moment in time, a person--the driver--moving through space. It's a narrative, and a narrative of its own making. And that upsets the usual assumptions of Street View, in which the user internalizes the camera's eye as his own.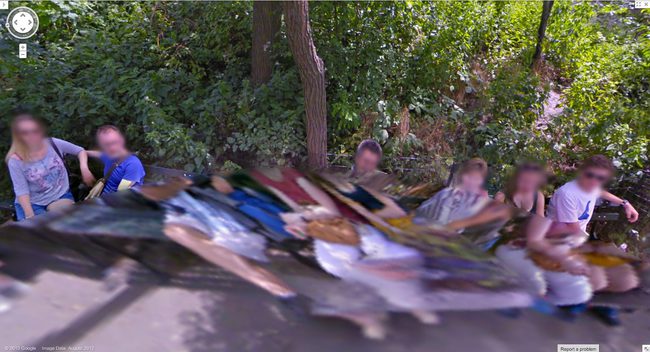 Plus, I just like the cubistic pano distortion aesthetic. I've grown accustomed to GSV's blurred face.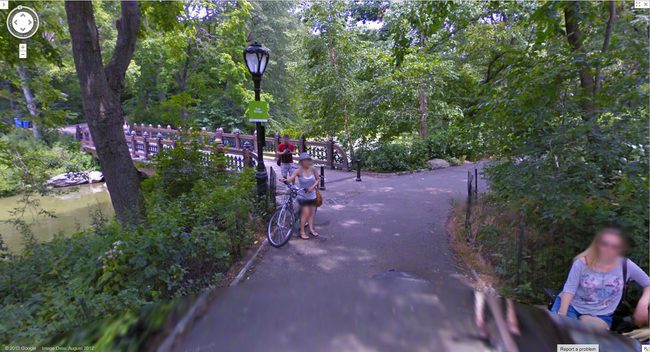 And as you can see here, the Google Trike and the camera are a recognizable feature now. A tourist attraction, even. That gets covered in the local news.
These people have probably been waiting months to see if/when their pictures show up on Street View.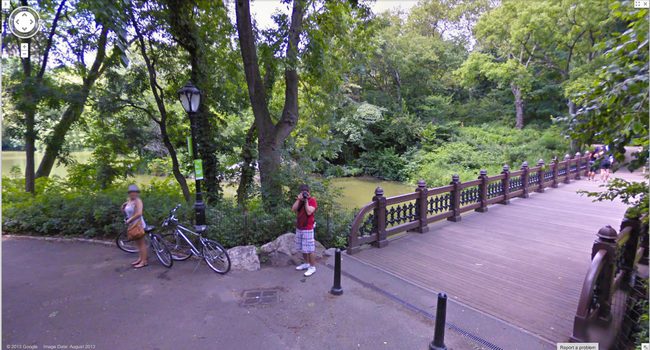 Yes, well, that's how Google used to do things. Those days may be numbered, and these images may soon be out of date, totally 2012. These Hong Kong panos were taken in April 2013, just weeks ago, and now they're live. Not only has the processing time been shortened, but the stitching quality has improved significantly. There is a new Street View aesthetic, and it is the ghost. We have become the blur. Google Spirit View.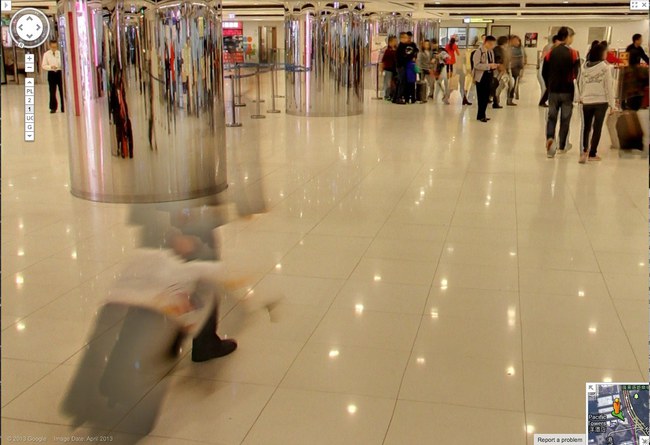 Check out this guy and his wheelie, almost gone. Also, it should be mentioned, these are interior panos, Google Art Project Everywhere. The Hall of Mirrors of the 21st century is a panoptic Kowloon ferry terminal/outlet mall with an LED grid reflected in the polished stone floor.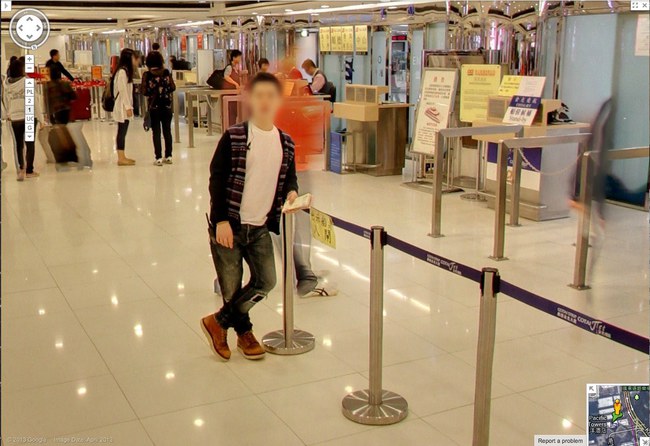 So compare the classic GSV civilian, face blurred, with the guy behind him--see him there, in his ASICS? His red jacket is just a haze through which the camera now neatly interprets the check-in counter further back.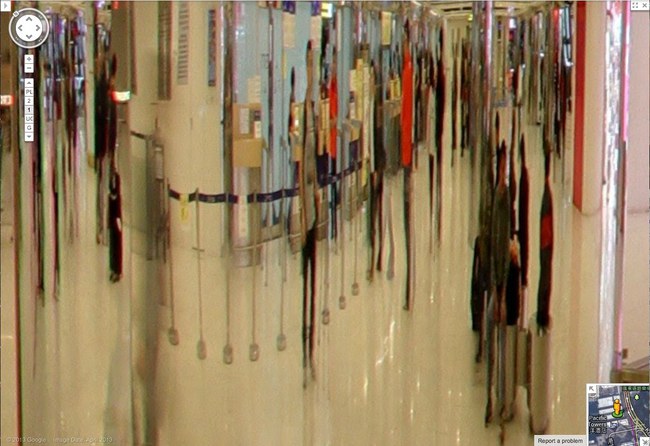 Spin around 180-degrees in this 1st floor pano, and the guy in red shows up more clearly reflected in the mirrored column. And in the mirror we also see someone who wasn't there: the guy in the center, with the grey t-shirt and backpack. With a faint tripod visible in front of him. This is the Google Cameraman. His camera is the small black box above his head. Static but portable. [I love these attenuated, Giacometti-esque figures, btw. So first instant of perception.]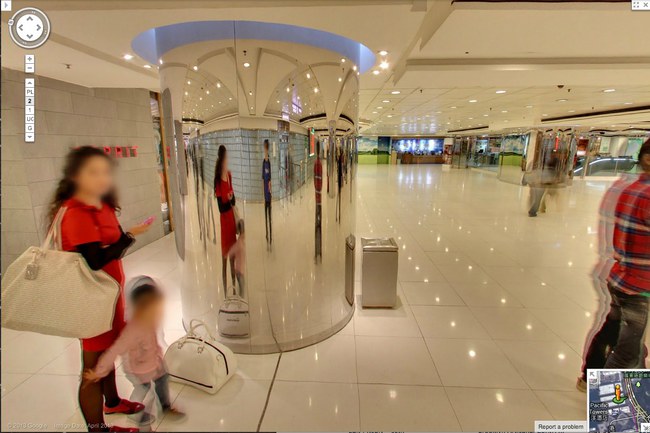 And here's another one, from a less crowded shot on the 2nd floor. First admire the nice blur motion on the guy to the right. Then note the guy who doesn't show up in the pano, except in reflection.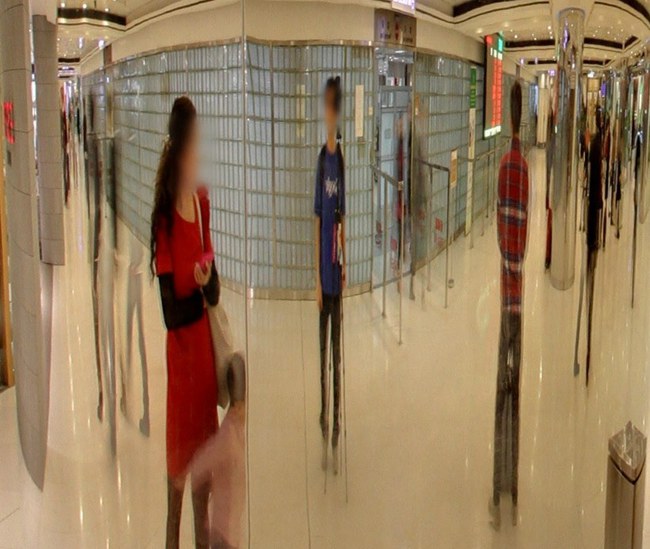 His superthin tripod does seem to have attracted the attention of the mom on the left, but no one else. They're looking at each other as he shoots. His blue T-shirt says elgooG.
Is there a Street View equivalent of Moore's Law? Because Google's scanning setup is getting smaller, lighter, and more invisible, and their data turnaround time is dropping. It is now easy to see the convergence of Google Street View and Google Glass, where all the Google-powered devices we wear, carry, and use relay information back to the Server in real time. We will be Google Drones surveilling ourselves and each other within a few years, and most people won't even notice it.