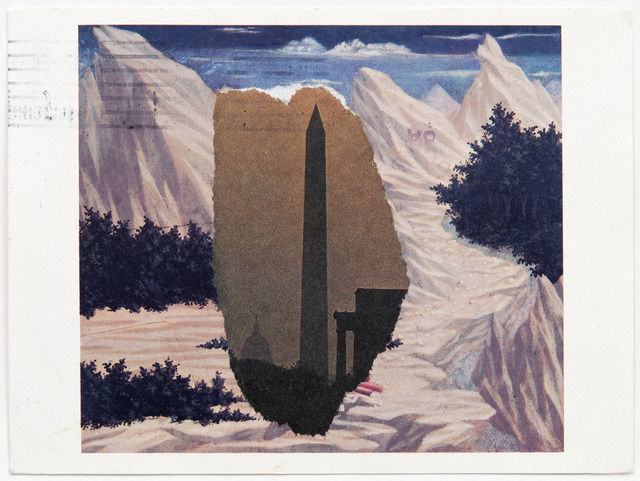 Domenico Veneziano / Washington Monument, 1984, image: peter freeman/artsy
So I didn't spot this Ellsworth Kelly postcard collage at Peter Freeman's booth at Frieze Masters, and I love it. It makes me want to see more. And to wonder why we haven't?
Kelly's used collage and found shapes and forms to develop his paintings and sculptures since the very beginning. He's made postcard collages to explore scale and shape and site, too. They're little glimpses into the way he sees. He makes them for himself, and he sends them to friends.
This example, made using photo torn from the newspaper and a postcard from the National Gallery of Veneziano's St. John in the Desert has some postal markings on it, so I expect it's the latter.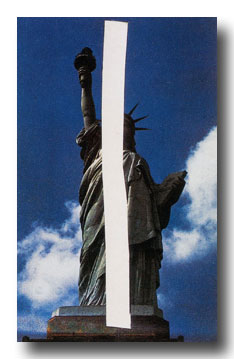 Statue of Liberty, 1957
Can we have a show of these, please? Or at least a book? I guess the closest so far is that amazing Drawing Center show in 2002, Ellsworth Kelly Tablet: 1949-73, curated by Yve-Alain Bois, which had collaged up pages from the artist's sketchbooks.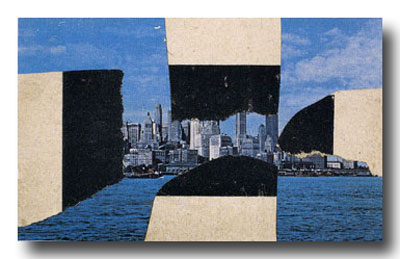 Upper Manhattan, 1957
But these postcard collages are not just, or not all, preparatory works; they're social, too. Their intimate scale, non-preciousness, and exchange function remind me of Felix Gonzalez-Torres's Polaroids and Gerhard Richter's overpainted photographs. The absolute least gesture and material required to convey the artist's observation.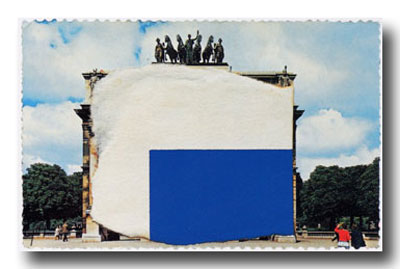 Study for a Blue and White Sculpture of Les Tuileries, 1964, like many of the smaller images, from a slideshow at nyss.org
They inevitably also function as postcards, seeming to mark a visit to a place, and the artist's reaction or memory there. In the Guggenheim's 1996 retrospective catalogue, Roberta Bernstein called them "souvenirs of experience." The light on the Seine, the bridge near the Taconic, the sliced coffee lid at Agnes Martin's place. Kelly talks of seeing things others don't, thus the unsuitability of an off-the-rack postcard.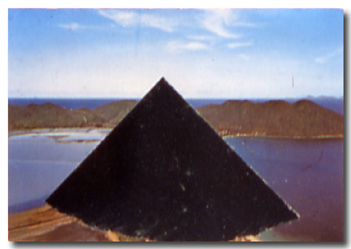 St. Maarten, 1974
In at least one case, the private, unique postcard became a published edition.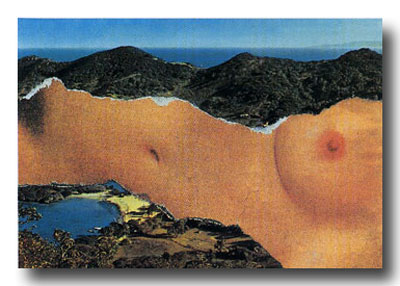 St Martin Horizontal Nude, 1974
If I'd realized that it started with a postcard, I'd have been less baffled by the big lithographs that pop up occasionally at auction.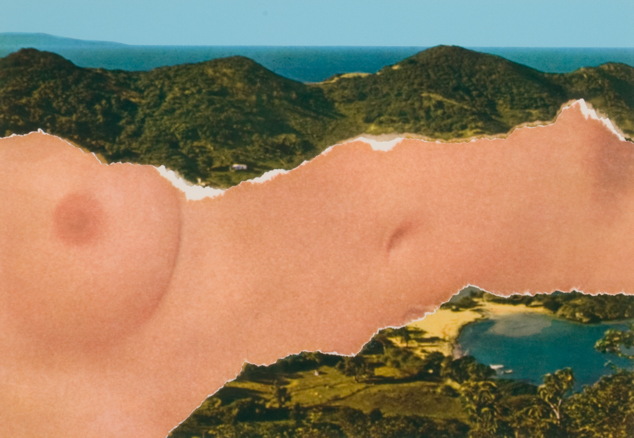 Saint Martin Landscape, 1979, 16x22-in
Postcards are obviously useful for sculpture, space, and scale. They're ambitious and offhand at the same time, a powerful proposition that can be discounted, but not unseen.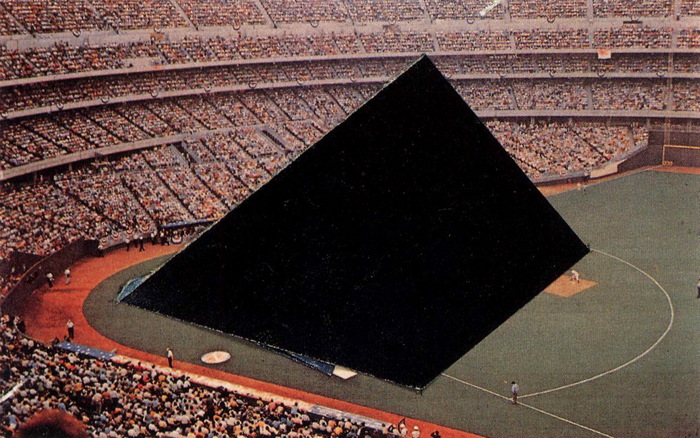 This 1980 postcard collage of Riverfront Stadium reminds me of Ground Zero, the newspaper collage Kelly sent to Herbert Muschamp in 2003: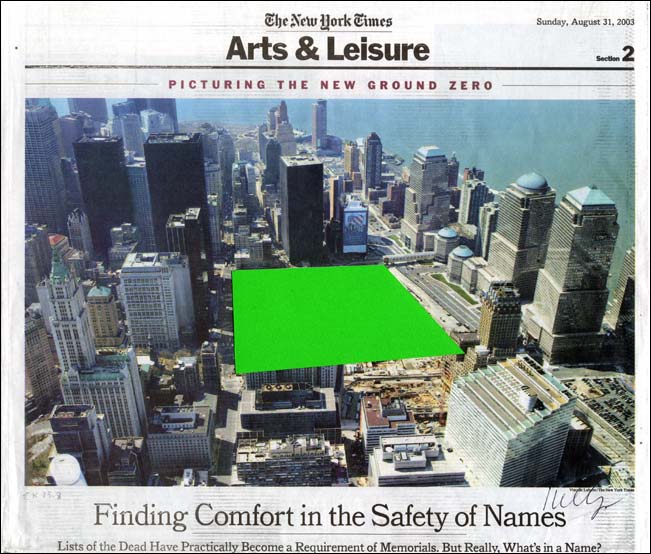 There's one other instance I can think of where Kelly's postcard collages and his monumental sculptural situation are linked, the imposition of sculptural form on photogenic tourist vista: his 1998 sculptural installation on the roof garden of the Metropolitan Museum.
I've found this over and over: 1998 is invisible online. There was a lag between the internet and digital photography, and archival digitization projects privilege the dusty. Ellsworth Kelly Metropolitan is a predictably beautiful search on flickr, but it doesn't yield any images from the pre-flickr era. Which is really too bad, because as I recall, they were picture perfect.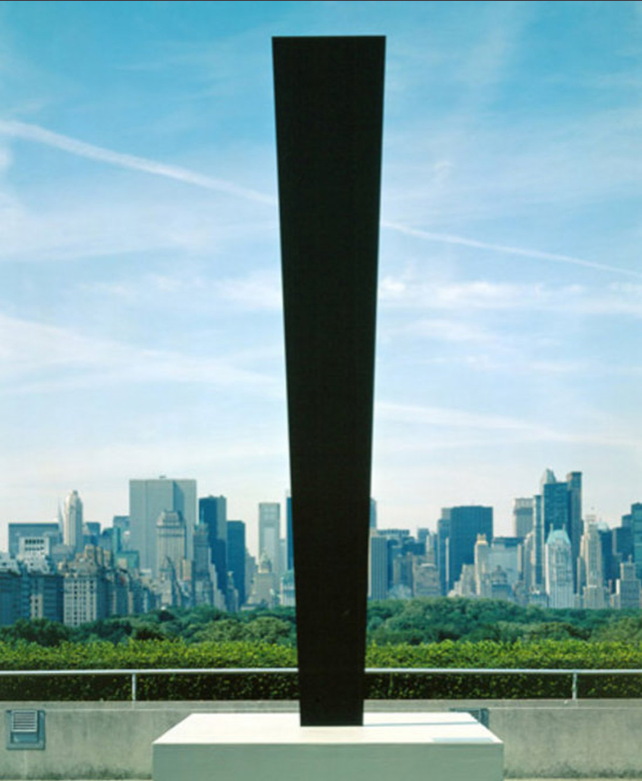 UPDATE:: Whaddyaknow, here's a picture of Totem on the roof of the Met, which I just randomly found in a 2010 NPR story about the closure of Carlson & Co.
Anyway, point is, we need a show. So please send all the Ellsworth Kelly postcard collages to me, and I will exhibit them.
Previously, suddenly related, souvenirs of virtual experience: Ellsworth Kelly on Google Art Project