Last summer I wondered about finding and visiting Walter de Maria's Las Vegas Piece, three miles of trench bulldozed into the Nevada desert in 1969. [Technically, I wrote about the Center For Land Use Interpretation's account of leading curator Miwon Kwon's graduate seminar on a hunt for Las Vegas Piece, and about how the artist prepped people for visiting the piece, and about just recreating the damn thing already, we have the technology! Did you know Sturtevant worked on plans to make a double of Double Negative? On the ravine on the Mormon Mesa right next to Michael Heizer's fresh original? Holy smokes, people, read Bruce Hainley's book. But that's another post.]
Yes, the piece is supposedly lost, and now de Maria is, too. And so all we're left with is his description of Las Vegas Piece from his 1972 oral history interview with Paul Cumming.
But no, there is another. The late curator Jan van der Marck wrote about visiting Las Vegas Piece in the catalogue for an exhibition of "instruction Drawings" from the Gilbert and Lila Silverman collection at the Bergen (NO) Kunstverein in 2001. van der Marck was a founding curator at the Museum of Contemporary Art in Chicago and was involved in organizing artists' response to the police violence at the 1968 Democratic Convention. But that's another post, too. Here's van der Marck's crazy story of what amounts to an Earth Art junket: [with paragraph breaks added for the internet]:
Earth art turned into a personal experience for me in February 1970 when Virginia Dwan invited me and a few German art writers and museum directors to join her and the artists Michael Heizer and alter De Maria on a quick inspection of some new works in the Nevada Desert. From the Las Vegas airport our small band traveled ninety-five miles in north-northeastern direction on unpaved roads, in the back of Heizer's pickup truck.

That afternoon was going to be devoted to De Maria's Las Vegas Piece, which he would describe to us only as "an extensive linear work on a flat valley floor." An hour before sundown we arrived at our destination and were gripped by the stillness of the landscape. Before us stretched a freshly dug, eight-foot deep ditch in the sage brush-covered desert soil, in the distance loomed the purplish mesas.

We had to lower ourselves into the bulldozed trench, which wind and erosion already had given a natural look, and we were to start walking. Other trenches would branch of, the artist warned us, and choices had to be made, but it would not take us long before the layout could be deduced from the turns with which we were faced. The first man or woman able to draw a mental map was encouraged to shout and would be declared the winner. And, by the way, De Maria added, 'don't go the full three miles, because if you do, you are not much of a mathematician!" The configuration we were to discover for ourselves in the least amount of steps was a one-mile incision into the landscape meeting another one-mile incision at a right angles [sic]. At the midpoint of each one-mile stretch a set of half-mile ditches branched off, meeting each other at a right angle and forming a perfect square. Walter De Maria's Las Vegas Piece, long reclaimed by the desert and inaccurately described in the literature, was seen by a hand-full [sic] of people.
Yes, let's take things in order. First, the hilarious image of Michael Heizer blazing down a dirt road in BF Nevada with a truckload of German museum directors. This is a thing that happened.
Next, "declared the winner"? De Maria apparently positioned the experience of his piece as a game and a competition, a mathematical mystery that visitors were supposed to calculate with their bodies and draw in their heads. What is that about? And anyway, who is going to judge this competition? If a curator cracks an earth art mystery in the desert, and no one's within a mile of them to hear it, do they make a sound?
There's a big point I'll get to, but let's jump to the end, where van der Marck calls out [in the footnotes] Carol Hall's 1983 paper "Environmental Artists: Sources & Directions" for an inaccurate description of Las Vegas Piece. Well, my diagram above would need correcting, too. According to van der Marck, the two mile-long lines in Las Vegas Piece met, and each was bisected by a half-mile trench, which met in turn to form the square. Which would look more like a right angle bracket, like this: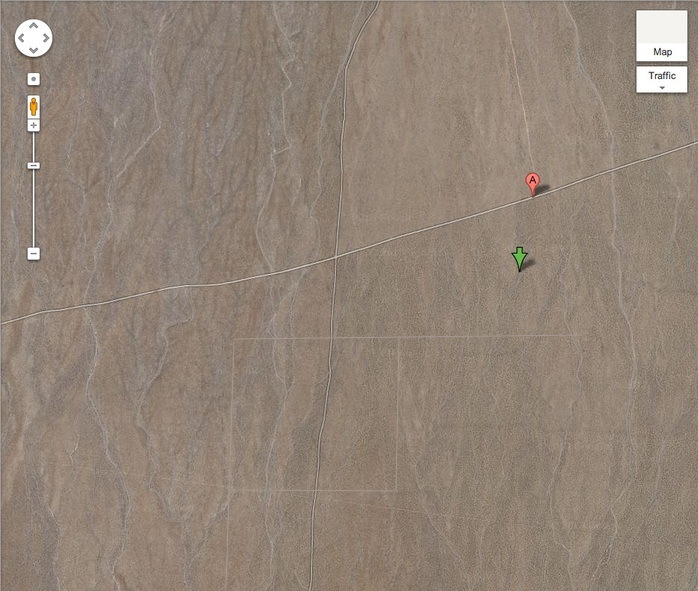 But the artist himself needs correcting, too. Because the diagram I drew was based on de Maria's explanation to Cumming. And the biggest difference of all, of course, is that de Maria told Cumming the trench was "about a foot deep, two feet deep and about eight feet wide." Yet van der Marck said it was eight feet deep and that they had to lower themselves into it. This is a non-trivial difference. If it was the former, then visitors would be in constant sight of the surrounding landscape and each other. If it's the latter, they're completely cut off. From everything. All they have is the view along the trench, and the darkening sky. It's the difference between a meditative labyrinth path, and an actual FPS-style labyrinth.
Also, if De Maria's piece was really eight feet deep, it would relate more directly to Heizer's nearby Double Negative--and it would still almost certainly be visible, or at least findable.
And now the fact that as august a scholar as Miwon Kwon relied on as ambiguous a guide as CLUI tells me that no one actually knows what the deal is with Las Vegas Piece. Except, perhaps Virginia Dwan.
UPDATE: Indeed. Virginia Dwan donated her gallery's archives to the Smithsonian, but they are currently closed for processing. According to Margaret Iversen's 2007 book on post-Freudianism, Dwan told Charles Stuckey in an 1984 interview that De Maria forbade any photographs or documentation of Las Vegas Piece, partly to abjure the work's commodification.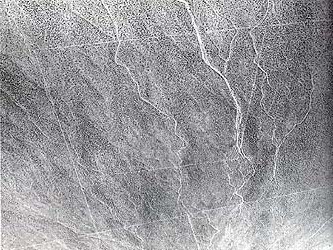 Yet an unsourced, undated aerial photo reproduced on this French webpage seems to depict Las Vegas Piece. The scale is about right. And when I flipped it 180-degrees, the geographic features look like they match the area just to the right/east of the map marker above. But what are we actually seeing? Isn't that top line a road? And there's a diagonal line. Yet if they're not Las Vegas Piece, who would take this picture here, and why? If it's really credible, I'd guess that the photo was the source of CLUI's coordinates, identified by the same method I just did: by eyeballing.
When Dwan accompanied Calvin Tomkins on a visit to Las Vegas Piece in 1976, they followed a map De Maria made, but never located the work itself. This despite Dwan's having visited the site before. Lawrence Alloway made it, though, for his October 1976 Artforum article, "Site Inspection." [Both accounts are only online as excerpts in Iriz Amizlev's 1999 dissertation, "Land Art: Layers of Memory," from the Universite de Montreal. (pdf). Amizlev also ID's Carlos Huber of Kunsthalle Basel and John Weber in the back seat of Heizer's pickup.]